Chicken, Kale, and Pasta Casserole With Cheese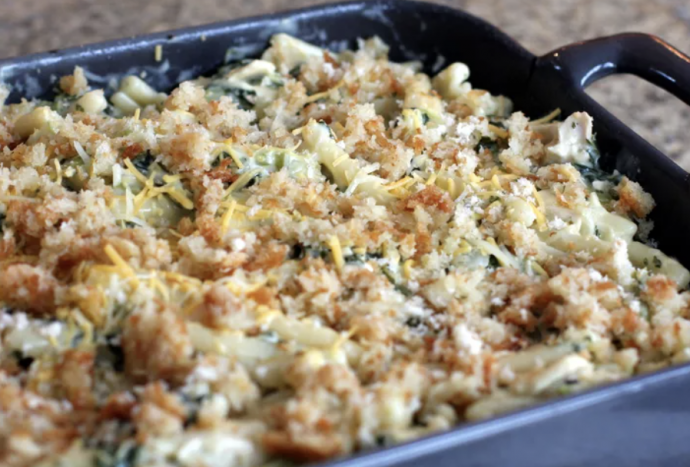 Chopped cooked kale is delicious in this casserole, but chard or spinach could also be used. This is a hearty dish, perfect to serve your family any day of the week—or make it for a potluck or large gathering.
Casarecce pasta is a slightly twisted, open, tubular shape which holds sauce very well. It worked beautifully in this casserole and would be great in a creamy macaroni and cheese dish as well. Feel free to use fusilli, campanelle, macaroni, penne, or similar pasta in this dish.
Ingredients
16 ounces uncooked fusilli, or casarecce pasta
4 tablespoons (2 ounces) unsalted butter, divided
1 cup chopped onion
2 tablespoons all-purpose flour
1/2 cup dry white wine
1 cup chicken broth
1/2 cup heavy cream
1/2 teaspoon dried leaf thyme
1 tablespoon fresh parsley, chopped
2 cups diced cooked chicken
2 cups frozen kale, cooked, well drained
2 cups shredded cheddar cheese
Salt, to taste
Freshly ground black pepper, to taste
1 cup soft fresh breadcrumbs