Sweet Potato Buddha Bowls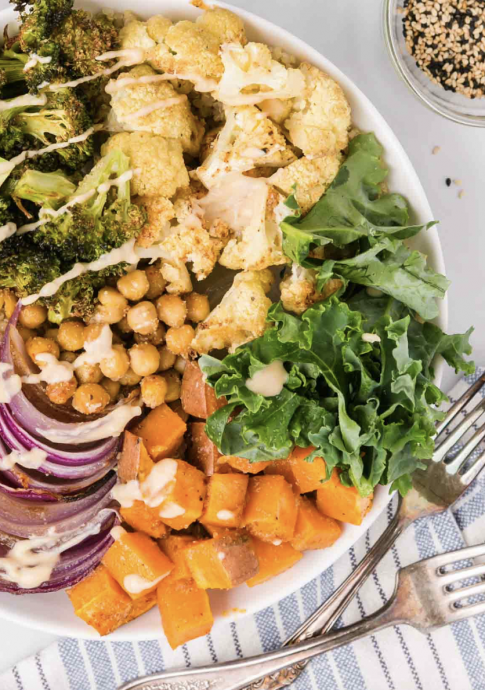 These homemade Sweet Potato Buddha Bowls are an easy-to-make, delicious, and healthy one-bowl meal. Packed full of nutritious roasted vegetables, crispy chickpeas, and leafy kale layered over a hearty bed of protein-rich quinoa. Change up the ingredients to suit your tastes!
A nod to cooler weather, I've filled my vegan sweet potato buddha bowls with roasted root vegetables, chickpeas, kale, and a spicy chili kick that will warm you from the inside out.
You can change up the ingredients to fill your bowls with new flavors and textures every time you make them! I've included a handy "Buddha Bowl Blueprint" below, with loads of easy and healthy ingredient substitutions to try.
Did I mention that buddha bowls are fantastic for meal prep? Because they are. You can prep all the ingredients and even assemble the bowls in one go, and enjoy balanced and healthy lunches or dinners all week long.
Ingredients
1 sweet potato , peeled and cubed
2 cups cauliflower florets
2 cup broccoli florets
1 15 oz. can of chickpeas , drained and rinsed
1 cup red onion , sliced in 1⁄2 inch chunks
2 cups cooked quinoa
2 cups chopped kale
2 Tablespoon olive oil
1 teaspoon chili powder
½ teaspoon kosher salt
½ teaspoon black pepper
1 teaspoon sesame seeds
Your favorite salad dressing or sauce