Beef Kabobs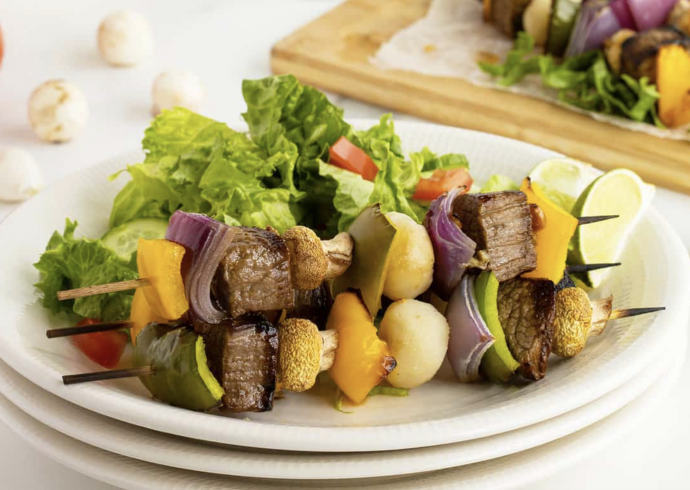 What could be more fun than some homemade beef kabobs? Perfect for a party, or just a BBQ treat, this recipe is going to become your favorite way to cook up some beef!
Kabobs are a must on any summer party menu. They manage to tick all of the boxes when it comes to party food.
They are easy to eat, quick to cook, and come with that satisfying, summery feeling no matter how you flavor them.
Alongside being impressive to guests, they are also a food that people can eat without the need for a full sit-down table setup making them perfect for casual parties where the focus is on socializing.
Plus when made right kabobs manage to pack an entire meal onto one stick! These party beef kabobs are an example of just that where everything that you need for a delicious and healthy meal is on one stick.
Ingredients:
4-6 wooden or metal skewers (8 inch long)
1½ lbs beef round roast (cut into 2x2x1 inch pieces)
8 fresh whole mushrooms (washed and trimmed)
1 can water chestnuts (optional)
1 small red onion (cut into quarters)
1 small green pepper (cut into 1-2 inch squares)
1 small yellow pepper (cut into 1-2 inch squares)
Marinade
¼ cup diced green onion
¼ cup soy sauce
¼ cup olive oil
2 Tablespoons honey
1 teaspoon minced garlic
1 Tablespoon red wine vinegar