Brussels Sprouts, Mushroom & Goat Cheese Breakfast Casserole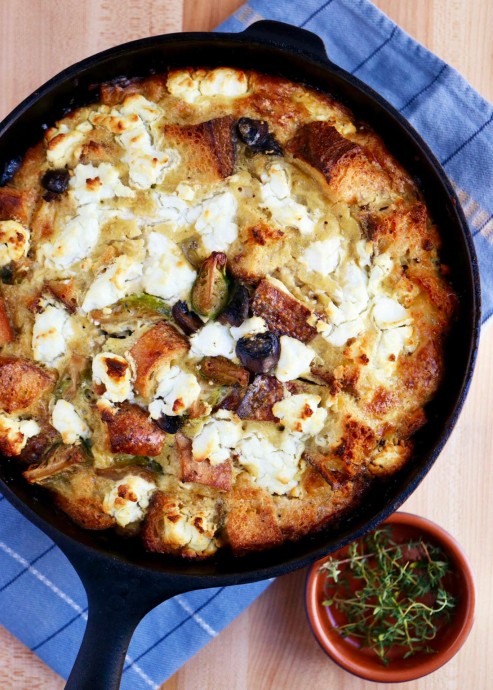 Loaded with eggs, bread, goat cheese, and veggies, this breakfast casserole, also known as a strata, is hearty enough to start the day. It would be equally welcome served with a simple green salad at dinner time, or as a side dish as part of a more lavish holiday feast.
Every home cook has at least one dish they can practically make in their sleep. For me, that's strata, which is basically a breakfast casserole made with layers of toasted bread, vegetables (or meat) and cheese soaked in an egg custard.
It's the perfect dish for breakfast, brunch, or dinner and embodies my favorite type of home cooking: rustic, adaptable, and easy to make ahead. All of which means less stress when mealtime rolls around. Strata is incredibly flexible, so once you've made a few, you can really start to have fun by playing around with different fillings, using other kinds of bread, or swapping out one cheese for another.
If goat cheese isn't your thing, that's fine! Don't like Brussels sprouts? Leave them out! Not a fan of sourdough? Any rustic country-style loaf will work. Strata is best when served warm, but it's also pretty dang good at room temperature. I don't like to freeze my stratas, but in terms of time-saving do-aheads, you have options.
Ingredients:
8 ounces (1/2 of a 1-pound loaf) sourdough bread
2 tablespoons olive oil
1 cup finely chopped yellow onion
1 pound cremini or button mushrooms, trimmed and quartered
2 teaspoons salt, divided
1 pound Brussels sprouts, trimmed and quartered
2 teaspoons minced garlic
1 tablespoon fresh thyme leaves, chopped
Pinch crushed red chile flakes
8 large eggs
1 pint (2 cups) half-and-half
1/2 teaspoon freshly ground black pepper
6 ounces goat cheese, crumbled