Spicy Mexican Cornbread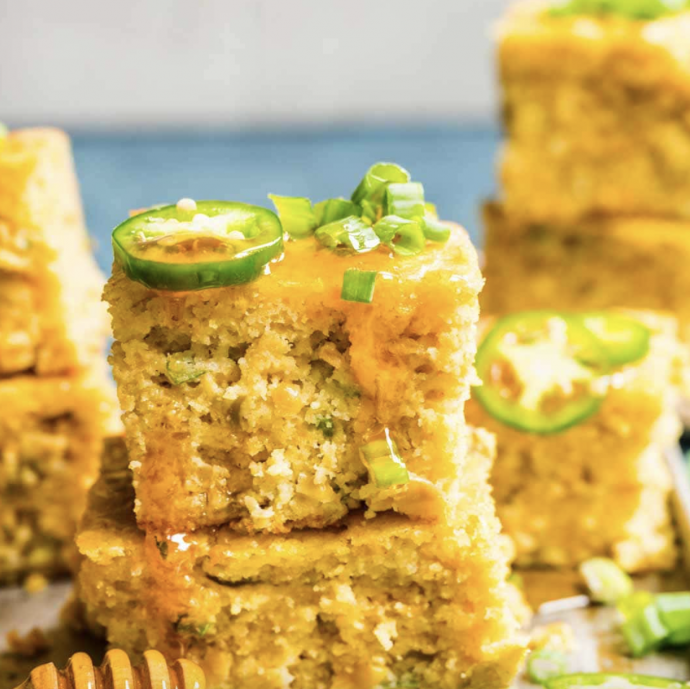 Spicy Mexican Cornbread is fluffy, buttery, and full of flavorful ingredients like cream-style corn, green chilis, cheese, and cayenne.
This Spicy Mexican Cornbread recipe is an excellent Autumn side dish. You can serve it with any number of Soup and Chili Recipes. Cornbread is great to dip into chili and let it soak up the flavorful sauce. This recipe is packed with even more flavor due to the spicy chilis and cayenne pepper throughout.
It's an easy Mexican take on classic cornbread that's impossible to get enough of. Your whole family is sure to love the slightly spicy taste and tender breading of this Mexican Cornbread Recipe. There's also shredded cheddar cheese and cream-style corn throughout making for a Cheesy Mexican Cornbread that's melty and stringy as you pull it apart.
Ingredients
1/2 cup unsalted butter , melted
1/2 cup sugar
4 large eggs
15 ounces canned cream-style corn
4 ounces canned chopped green chili peppers , drained
1/4 cup green onions , sliced
1 cup cheddar cheese , shredded
1 cup flour
1 cup yellow cornmeal
4 teaspoons baking powder
1/4 teaspoon salt
1/4 teaspoon cayenne pepper