Lunch Box-Worthy Falafel Kebabs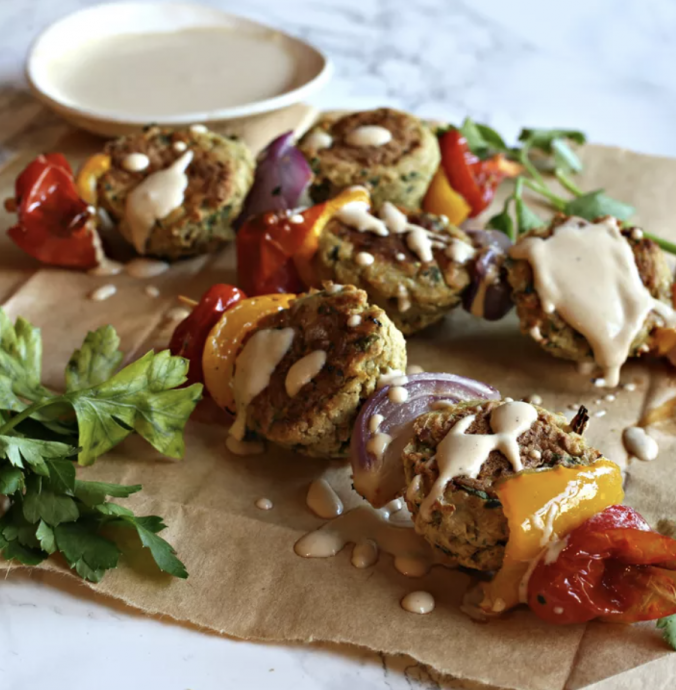 Kebabs are basically Middle Eastern dishes that were once based on grilled meat and vegetables that were threaded on skewers. But these days those skewers can be filled with a wide variety of foods for delicious combinations and a fun presentation.
Instead of the traditional falafel sandwich in a pita, why not grill or roast vegetables and serve them on skewers along with the falafel balls? It's a tasty and healthy idea that would make for a fun lunch box item when the kids go back to school. Just pack up a little tahini sauce to drizzle over top and enjoy!
Ingredients
For the Falafel:
1 cup canned chickpeas, rinsed and drained
1/2 onion, peeled
2 cloves garlic, peeled
3 tablespoons chopped cilantro (or parsley)
2 tablespoons chopped parsley
1 teaspoon ground cumin
1 teaspoon baking powder
1/2 teaspoon salt
1/4 teaspoon black pepper
1/4 cup all-purpose flour
Optional: Pinch of red pepper flakes (or to taste)
For the Tahini Sauce:
1/4 cup sesame paste
1/4 cup water
2 tablespoons lemon juice
1 clove garlic (grated)
For the Kebabs:
1 red onion (peeled and quartered)
1 bell pepper (your choice of color, seeded and cut into approximately 2" pieces)
1 cup cherry tomatoes
1 tablespoon olive oil