Beef Wellington Braciole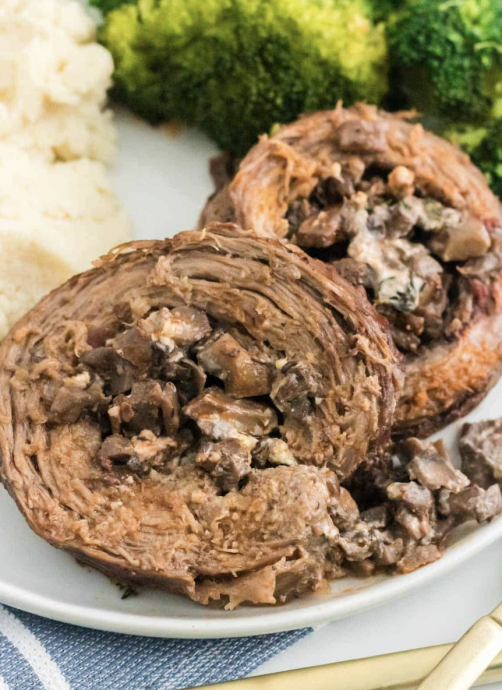 Filled with mushrooms and gorgonzola and braised in red wine tomato gravy, Beef Wellington Braciole puts a twist on two classic dishes! Slice the stuffed flank steak pinwheels and serve an impressive dinner recipe that will make mouths water.
Sometimes I just want to spend the day in my kitchen, sautéing, searing, braising, slicing. And, of course, getting my camera out before serving the meal! Gratefully, I have friends and family who don't mind playing recipe critic and waiting patiently while I get the shot.
That's what happened here. I've often made my lightened up, easy Beef Wellington for dinner parties. Then recently, I saw this traditional recipe for Beef Braciole from Samantha of The Little Ferraro Kitchen, and was inspired to combine the two. So the Hubby took care of the boys. I took care of the beef. Our friends took care of the wine. And I think we achieved perfection.
Ingredients:
For the braciole:
2 Tbsp olive oil divided
one shallot minced
About 24 oz. mushrooms finely chopped
1 tsp kosher salt
1 T chopped fresh thyme
1/2 cup dry red wine
2-2 1/2 lb flank steak
4 oz. gorgonzola or another blue cheese, crumbled
For the gravy:
2 cups dry red wine
2 cups beef broth
one 4 oz. can tomato paste
1 tsp kosher salt
2 sprigs thyme