Amazing Salt and Pepper Chicken Wings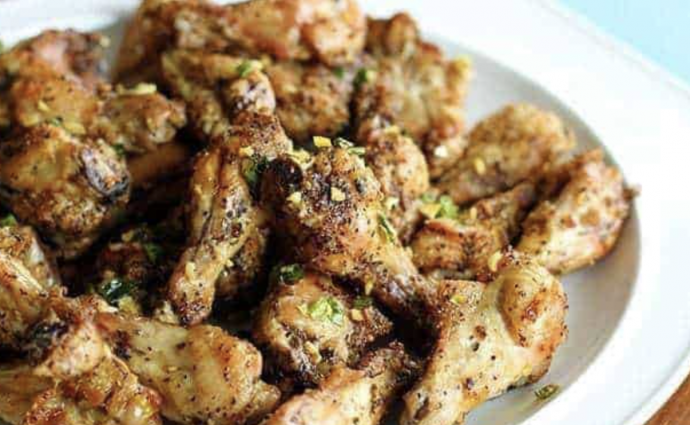 These wings are so simple that I literally had all the ingredients in the fridge. The addition of sesame oil, green onions and garlic is brilliant. Sure, maybe some of you knew this already. I didn't. This is a slightly Asian inspired take on Salt and Pepper Chicken Wing and it makes all the difference.
Now you. Reader you. Go and get the ingredients for these and make them this weekend. This is a large recipe that makes approximately 36 wings, so enough for 6 people to have as a snack.
I also have a high salt ratio, as I like salty, salty wings. If you want less salt, leave out one teaspoon. Mike and I had these for dinner and then ate them the next day as well.Do you even want to know how they tasted cold?
Better than hot. Oh em gee you guys, the best cold chicken I have ever eaten! The flavors just soaked in overnight and well.. it took all my willpower to leave some for Mike for his lunch. Don't be scared of red pepper flakes, that is a classic combination – sesame oil and red pepper flakes, just like my favourite Chinese dishes!
3 pounds party wings approx. 36 wings
3 teaspoons salt
4 teaspoons crushed black pepper
4 teaspoons sesame oil
5 cloves garlic chopped
4 green onions diced
chili pepper flakes optional but the heat is nice!