Tourtiere (Meat Pie)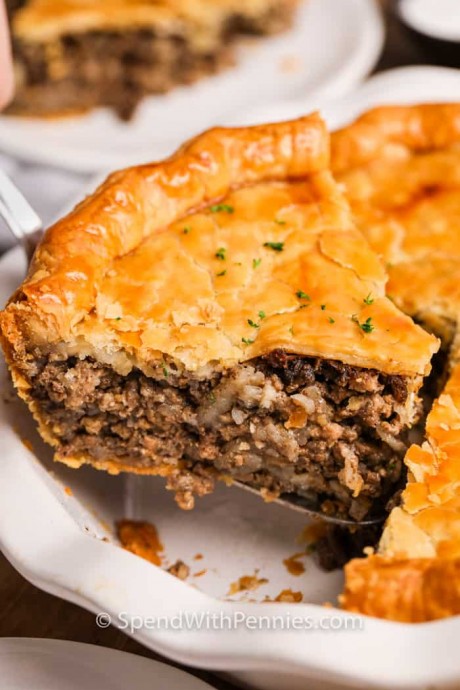 This homemade Savory Meat Pie recipe is a hearty dish that can easily be prepared ahead of time! Made with all the comfort of potatoes and onions, ground meat, and some warm spices all tucked into a flaky crust. A meat pie can come in many variations from a shepherd's pie, kidney pie, or a "pasty" depending on the country they're made in. This is a version of tourtiere, a Canadian meat pie made with pork, beef or often veal (I use ground beef in place of veal).
This pie is known as "tourtiere" and is a favorite year-round but we especially enjoy it at winter time! It has some warm spices including a hint of allspice and cloves that give its distinctive flavor. For this recipe you can either use a store-bought double pie crust, pastry or a homemade pastry crust. Made with the perfect combination of ground beef, pork, and savory spices this recipe is full of flavor! You can easily replace the ground pork with ground beef or replace a portion of the ground beef with additional ground pork to make this recipe with whatever you have available. Mashed potatoes are key in this recipe as they help with consistency and make the filling hold together. Serve with a slice of homemade garlic bread and a fresh tossed salad or cucumber tomato salad for a yummy meal!
Ingredients:
1 pound lean ground pork
½ pound lean ground beef
1 small onion finely diced
2 cloves garlic minced
1 large russet potato peeled & cubed
1 teaspoon salt
½ teaspoon pepper
¼ teaspoon ground sage
¼ teaspoon dried thyme leaves
½ teaspoon allspice
⅛ teaspoon cloves
½ cup beef broth
1-2 tablespoons breadcrumbs if needed
pastry for a 9-inch double-crust pie