Vegetarian Stuffed Tomatoes Recipe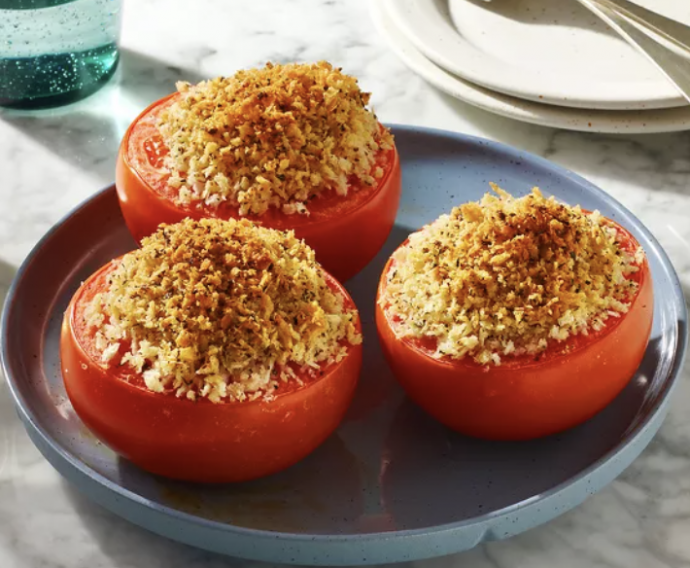 Filled with a mixture of cheese, breadcrumbs, chopped tomatoes, garlic, and herbs, these stuffed tomatoes are absolutely delicious and fill the kitchen with an inviting aroma. It doesn't take much to prepare the tomatoes, and they cook quickly in the oven. You can also pop them on the grill!
Stuffed tomatoes are a fantastic vegetarian side dish or appetizer, or even a light main course. While they're ideal for summer meals because that's the peak of tomato season, they're a versatile and easy addition to the dinner table any day of the year.
Any firm tomato that you would slice for sandwiches is a good choice for this recipe. Classic medium or large red tomatoes like beefsteaks or tomatoes on the vine are perfect. Some meatier heirloom varieties can work well too. Be sure to choose tomatoes that are large enough to hollow out and stuff.
Ingredients:
4 medium to large tomatoes
3/4 teaspoon salt, divided
1/2 cup breadcrumbs
1/2 cup shredded Parmesan cheese (use a vegetarian variety, if needed)
1/2 cup shredded mozzarella cheese
2 cloves garlic, minced
1/2 teaspoon dried basil
1/2 teaspoon dried oregano
1/2 teaspoon dried thyme
1 tablespoon chopped fresh parsley, plus more for garnish
1/4 teaspoon ground black pepper
2 tablespoons olive oil