Flourless Nutella Cheesecake Swirl Brownies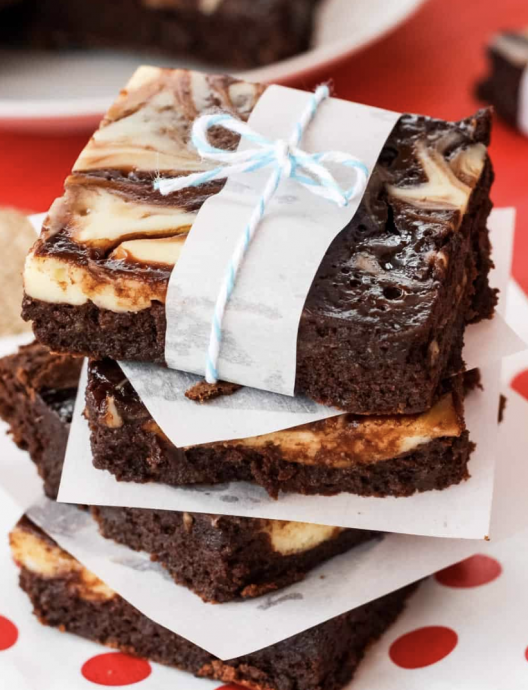 Rich, fudgy flourless brownies with chocolate hazelnut and cheesecake swirls, Gluten Free Nutella Cheesecake Brownies are seriously decadent! So easy to make, anyone can enjoy the rich, fudgy, marbled goodness in this chocolaty dessert.
Make the gluten free brownie batter. In a double boiler or a bowl set over a simmering pan of water, melt the butter, then add the chocolate chips, stirring until melted. Set aside to cool slightly. In a large bowl, whisk together the eggs and sugar for about two minutes until it is thickened slightly and pale yellow. Add melted chocolate mixture a little at a time, whisking well after each addition, then whisk in the cocoa powder, almond meal, salt, and vanilla. Pour the batter into the prepared pan and spread evenly.
Ingredients:
For the cheesecake swirl:
4 oz. cream cheese, light or regular, softened to room temperature
1 egg yolk (save the white for the Nutella swirl)
1/4 cup powdered sugar
1/2 tsp pure vanilla extract
For the Nutella swirl:
1/4 cup Nutella or your favorite chocolate hazelnut spread
1 egg white
For the brownies:
1 cup semisweet chocolate chips
1/2 cup one stick unsalted butter
4 large eggs
1 cup granulated sugar
1/2 cup cocoa powder
1/2 cup almond flour
1/2 tsp salt
2 tsp pure vanilla extract