Korean Corn Dog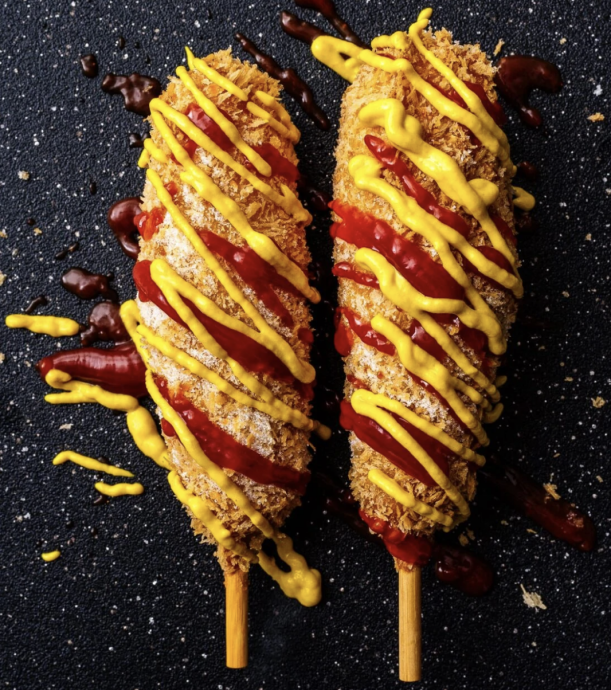 Is there anything more delicious or incredibly fun than a Korean corn dog?! The sweet and savory combination of the crispy outer batter and the stretchy cheese pulls – I'm addicted!
If you've watched any K-drama or are remotely interested in Korean culture, you've seen Korean corn dogs: beautifully fried, golden battered hot dogs with mozzarella on a stick, dusted with a sparkling sprinkle of sugar.
Korean corn dogs are hot dogs, rice cakes, fish cakes, or mozzarella cheese coated in a batter (and sometimes panko, french fry pieces, or ramen) and deep fried. They're finished with sugar and a signature squirt of your condiment of choice: ketchup, mayo, mustard, or all three. They're sweet and salty and completely delicious.
Some Korean hotdogs are made with a yeasted batter and some are made with a rice flour batter. There are a lot of variations.
Ingredients:
3 hot dogs cut in half
6 sticks low moisture fresh mozzarella cheese
1 1/4 cups all purpose flour
2 tbsp sugar plus extra to finish
1/4 tsp salt
2 tsp baking powder
1 large egg
3/4 cups milk
2 cups panko
High heat oil for deep frying
mustard as needed, optional
ketchup as needed, optional