Caramelized Zucchini Phyllo Pie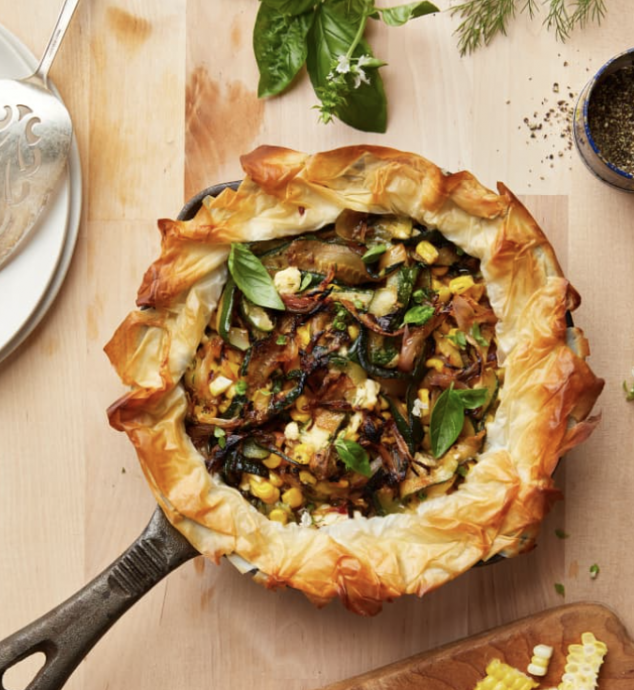 Crisp, flaky layers of phyllo dough encase a savory filling of caramelized zucchini, sweet summer corn, two types of cheese, and lots of fresh herbs.
Have you ever worked with phyllo dough? I've been hooked on the pastry sheets, known for their use in Greek and Middle Eastern pastries, ever since I opened my first box in culinary school. Whether layered with nuts and honey or folded and crimped into a skillet, the paper-thin sheets bake up flaky and crisp, creating the perfect crunchy contrast to whatever lies inside.
Here, that inside is just as thrilling as the shattering pastry. Thin strips of zucchini are cooked down with shallots until caramelized and jammy, then mixed with fresh corn, feta and Parmesan cheeses, plenty of fresh herbs, and a few eggs to bind it all together. The result is lighter than a quiche but more substantial than a galette — or, as I like to think of it, the perfect summer pie.
Ingredients:
1 (1-pound) package frozen phyllo dough (13x18-inch), thawed in the refrigerator overnight
1 1/2 pounds zucchini (about 3 medium)
2 medium shallots
5 tablespoons olive oil, divided
2 teaspoons kosher salt, divided
1/2 teaspoon freshly ground black pepper, divided
1 tablespoon water
2 large eggs
1/4 cup tightly-packed coarsely chopped fresh basil leaves, plus whole leaves for garnish
3 tablespoons coarsely chopped fresh dill
1 1/2 ounces Parmesan cheese (1 scant cup freshly grated or 1/2 scant cup store-bought)
1 1/2 cups fresh or frozen corn kernels (from about 2 ears fresh)
3 ounces feta cheese (about 1/3 cup crumbled)
Hot sauce, for serving (optional)