Garlic Butter Steak Bites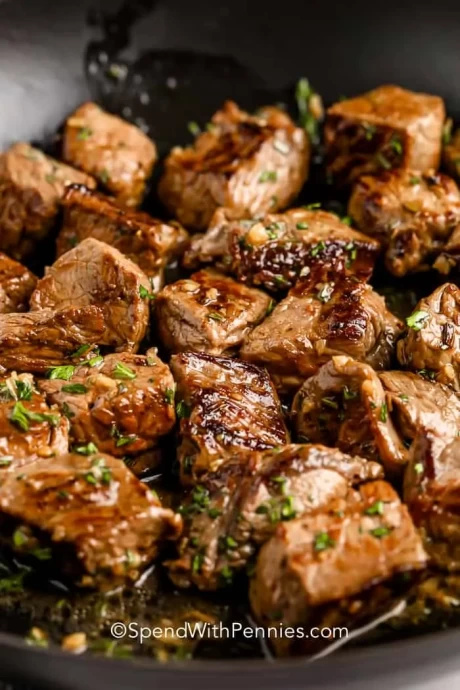 Whenever you want a fancy and flavorful appetizer, steak bites are the way to go! Tender chunks of beef with rosemary and garlic are a cinch to make!
We love this recipe because they are easy to make, portable, and they satisfy even the biggest of appetites! Another quick and easy way to tenderize steak bites is to put them in a zippered bag with about 2 tablespoons of bottled Italian salad dressing. Chill them in the fridge for about 30 minutes, then proceed with the recipe. The vinegar in the dressing tenderizes the beef and the other seasonings will add an extra punch of flavor.
Be sure to discard all of the marinade and to dab the steaks dry before cooking. Thread cooked steak bites on skewers or picks and arrange them on a platter with a bowl of dipping sauce in the center. Garnish with sprigs of rosemary or parsley! We like tangy dips and sauces, but rich and creamy sauces will work, too.
Ingredients:
1 ½ pounds sirloin steak or strip loin or ribeye
salt & pepper or steak spice, to taste
1 teaspoon fresh rosemary or ½ teaspoon dried rosemary
1 tablespoon vegetable oil or as needed
2 tablespoons butter
2 cloves garlic minced
1 tablespoon parsley