Cauliflower Rice Tabbouleh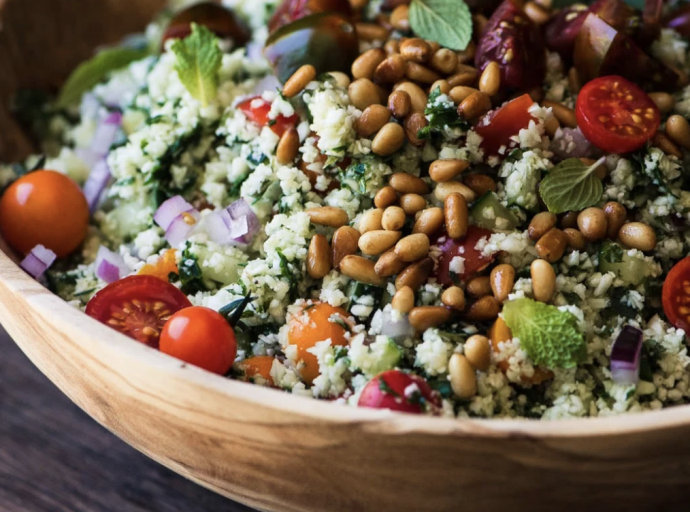 Cauliflower Rice Tabbouleh is a twist on the glorious Middle Eastern cracked wheat salad, made low carb and grain free using cauliflower rice.
Discover a symphony of flavors and colors in this Farro Salad with Fresh Herbs and Mozzarella. This dish is a celebration of wholesome ingredients and vibrant tastes that come together to create a delightful and nutritious meal.
Starting with hearty farro, cooked to perfection, this salad is a canvas for a medley of ingredients. The marriage of extra-virgin olive oil, red wine vinegar, and aromatic garlic forms the foundation of a zesty vinaigrette that elevates each bite. The richness of bocconcini, the briny notes of Castelvetrano olives, and the tanginess of peppadew peppers add layers of complexity and intrigue.
Ingredients
1 small to medium head of cauliflower
2 cups halved small cherry tomatoes
1/2 small red onion, finely minced
1 small cucumber, finely chopped
1 large handful finely chopped fresh parsley
1 handful finely chopped fresh mint
1/2 cup pine nuts
olive oil
DRESSING
1/4 cup olive oil
juice of 1 lemon
salt and fresh cracked pepper to taste
GARNISH
lemon wedges
fresh mint leaves