Gochujang Chicken Burgers with Kimchi Bacon Jam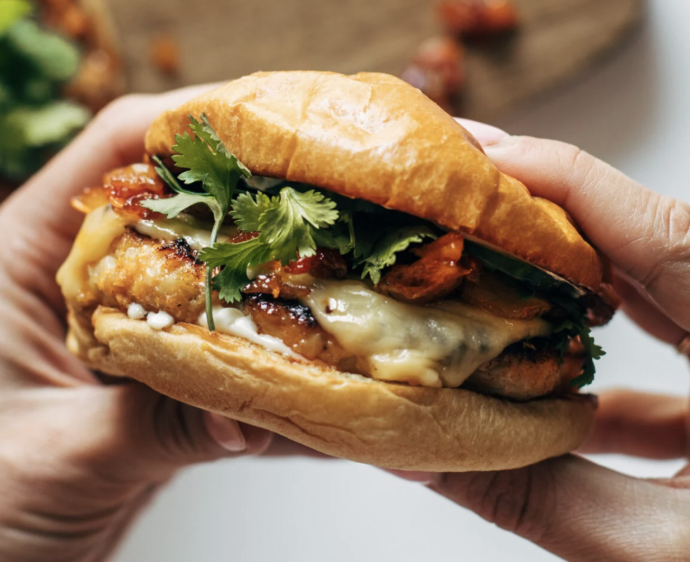 This flavor combo was, in all honesty, my attempt to just continue to find ways to eat those teriyaki chicken burgers. I truly love those so much. To continue with more of that energy, I used the same basic recipe but made them a slightly different flavor (gochujang never disappoints), added that kimchi bacon jam (the same one that we used back in the day for the kimchi grilled cheese), and hello. One of my most favorite sticky, smoky, sweet, and spicy burgers was born.
The flavors – I mean, what can I say. They will knock your socks off. The chicken burgers are just a little spicy, the cucumbers and cilantro are keeping it fresh and crunchy, and the kimchi bacon jam is smoky and sticky and sweet and everything I want in a burger topping.
Ingredients:
Gochujang Chicken Burgers:
1 lb. ground chicken
1/2 cup panko breadcrumbs
2 tablespoons gochujang sauce (I use this one)
1/2 teaspoon garlic powder
1 teaspoon coarse kosher salt
avocado oil or olive oil for frying
Kimchi Bacon Jam:
6 slices bacon, cut into small pieces
1 1/2 cups kimchi, cut into small shreddy pieces (my personal preference for texture!)
2 tablespoons brown sugar
Burger Extras:
Buns
Cheese (optional – I use gouda cheese)
Cilantro or greens
Mayo
Cucumber slices