Chocolate Buttermilk Cake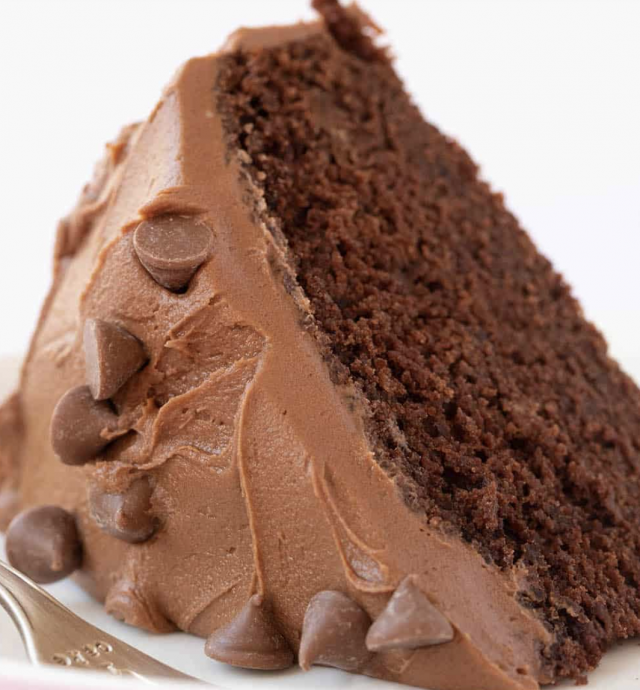 A moist Chocolate Buttermilk Cake covered in creamy chocolate buttercream and chocolate chips. This quick and easy chocolate cake recipe takes only minutes to make but tastes better than a box mix. It's the perfect cake for parties, birthdays and celebrations!
If you're looking for a moist chocolate cake that's quick and easy to make, look no further. This simple one-layer cake is perfect for chocolate lovers.
The (not-so) secret ingredient, buttermilk ensures this cake has a super soft crumb that stays moist for days.
And the frosting is a scaled-down version of my popular Chocolate Buttercream. It has real melted chocolate in it, which makes it super creamy and easy to worth with.
Ingredients:
Chocolate buttermilk cake
120 ml (1/2 cup) hot water
210 grams (1 and 1/2 cups) plain flour or all purpose flour
40 grams (1/2 cup) cocoa powder, sifted
90 grams (1/2 cup) brown sugar
150 grams (3/4 cup) caster sugar or granulated sugar
1 teaspoon baking powder
1/2 teaspoon baking soda
1/4 teaspoon salt
170 grams (3/4 cup or 1 and 1/2 sticks) unsalted butter, melted and cooled
2 large eggs
1 teaspoon vanilla extract
120 ml (1/2 cup) full fat buttermilk
Chocolate buttercream
115 grams (1/2 cup or 1 stick) unsalted butter, softened
375 grams (3 cups) icing sugar or powdered sugar, sifted
100 grams (2/3 cup) dark chocolate or semi-sweet chocolate (50-70% cocoa), melted and cooled
1–2 tablespoons full fat or whole milk, room temperature
50 grams (1/3 cup) chocolate chips