Creamy Taco Shell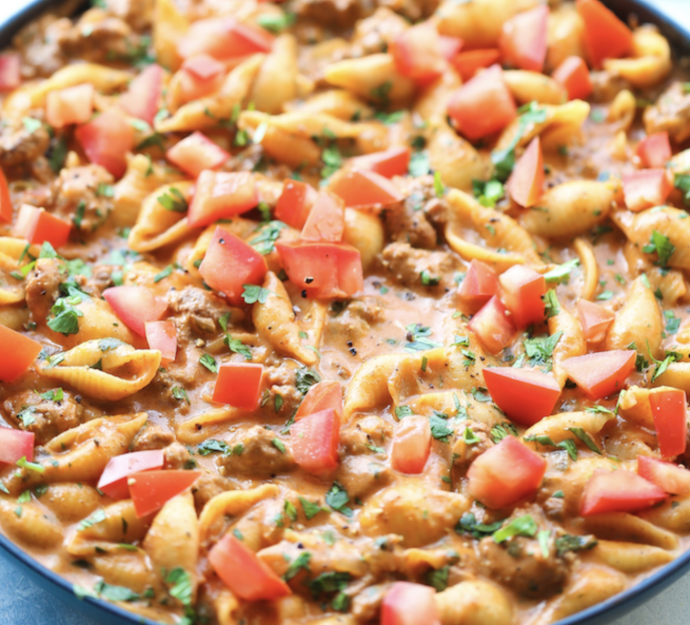 My favorite 30-min weeknight meal! This Taco Shell recipe is made with hamburger meat and everyone's favorite taco flavor goodness. Everyone will LOVE THIS!
But I'm home now, reunited with Butters, and we have been stuffing our faces with this, straight from the skillet. There's no plating here. Why bother, right?
Because we have the creamiest shells loaded with ground beef, homemade taco seasoning, cheesy goodness, and fresh cilantro. All made in 30 minutes or less.
Oh, and in case you're wondering, we use pasta shells here so they can catch all the creamy sauciness.
Ingredients:
8 ounces medium pasta shells
1 tablespoon olive oil
1 pound ground beef
½ medium sweet onion, diced
1 small poblano pepper, diced
3 cloves garlic, minced
1 ½ teaspoons chili powder
¾ teaspoon ground cumin
2 tablespoons all-purpose flour
2 cups beef stock
1 15-ounce can tomato sauce
¾ cup heavy cream
⅓ cup chopped fresh cilantro leaves
Kosher salt and freshly ground black pepper, to taste
6 ounces shredded extra-sharp cheddar cheese, about 1 1/2 cups
1 Roma tomato, diced