Easy Ricotta and Spinach Stuffed Shells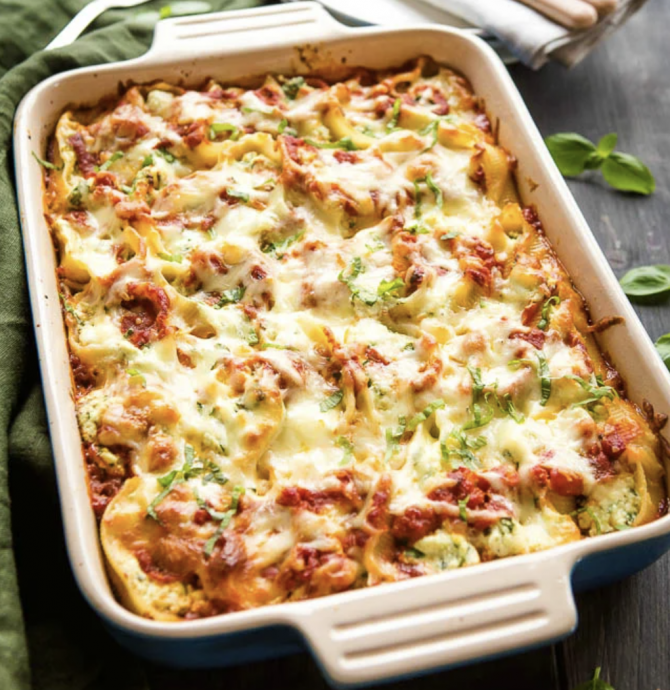 Stuffed shells with spinach are the perfect vegetarian weeknight meal. Make this easy pasta recipe ahead and bake it to cheesy perfection in under 30 minutes!
If you know me, you'll know I love serving a good comfort food meal to my family after a long day. This spinach and ricotta stuffed shells is one of my favourite comforting recipes that's simple yet oh so flavourful! It's really proof of the fact that the best dishes are made with real, simple, wholesome ingredients – that's definitely part of my cooking philosophy here on The Busy Baker. Let fresh, good quality ingredients speak for themselves and stay away from packaged and ready to eat foods with tons of additives. Simple is best!
Ingredients:
250 grams jumbo shells pasta about 32 shells
1 tablespoon salt for the pasta water
FOR THE FILLING:
750 grams ricotta cheese
1 cup shredded mozzarella cheese
1/3 cup grated parmesan
1 cup chopped fresh spinach
3 cloves garlic finely minced
1/2 teaspoon salt
1/4 teaspoon pepper
1/2 teaspoon dried basil or fresh basil, chopped
1/2 teaspoon dried oregano or fresh oregano, chopped
1 egg
2 cups marinara sauce
FOR TOPPING:
1/2 cup marinara sauce
3/4 cup mozzarella cheese
1/4 cup grated parmesan cheese
fresh chopped basil or parsley, for garnish (optional)