Crispy Parmesan Potatoes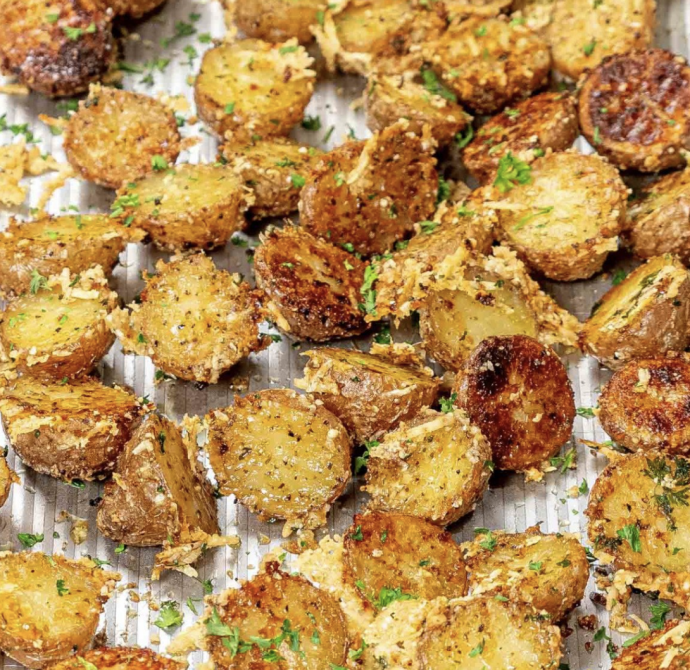 Can't resist crispy potatoes? Then you'll fall head over heels for these Crispy Parmesan Potatoes, where each bite is a celebration of flavors, from the salty Parmesan to the fragrant Italian seasoning.
Experience the joy of sinking your teeth into a potato that's crisp to perfection on the outside while maintaining its tender fluffiness on the inside. That's exactly the experience that my Crispy Parmesan Potatoes promise. Infused with a mouthwatering blend of Italian seasoning, garlic powder, and the ultimate star – freshly grated Parmesan cheese, these potatoes are about to become your favorite side dish.
But the magic doesn't stop there. After a roast in the oven, these potatoes are treated to an extra shower of Parmesan, delivering a beautifully golden, cheesy crust that's irresistible. To finish, a sprinkle of fresh parsley adds a burst of color and freshness. Crispy Parmesan Potatoes, folks, where comfort food meets gourmet with an extra crispy twist.
Ingredients:
3 pounds small red potatoes
3 tablespoons olive oil
½ teaspoon salt (or to taste)
¼ teaspoon black pepper (or to taste)
½ teaspoon garlic powder
1 tablespoon Italian seasoning
1 cup Parmesan cheese (freshly grated)
2 tablespoons fresh parsley (chopped)