Air Fryer Egg Rolls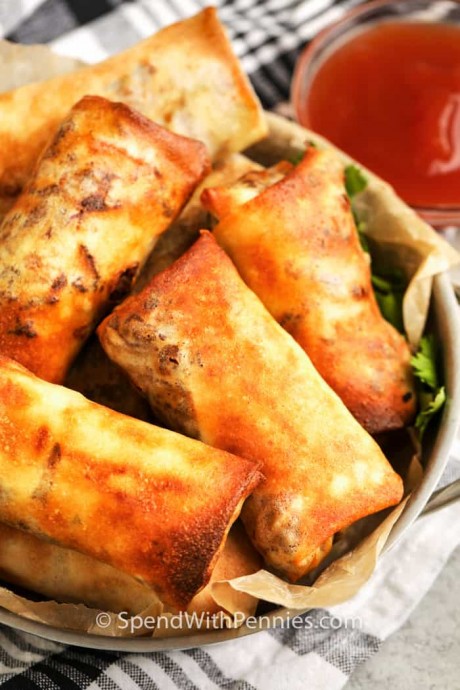 Egg rolls are stuffed with pork, veggies, and lots of flavor. Fill, wrap and cook! Skip the deep fryer, these bake up crisp and delicious in the air fryer with a fraction of the fat!
An air fryer is a countertop appliance that is so easy to use! (I have this air fryer and use it pretty much every day). Air fryers cook by circulating hot air around the food, kind of like a convection oven to the max!
They have a variety of settings to produce varying levels of crispness without lots of fat. The air fryer makes these homemade egg rolls turn out perfectly crispy – just like this deep-fried version only with far less oil! It's easy to make your own egg rolls at home! Because the egg rolls crisp up quickly, the meat should be pre-cooked as it won't have time to cook through in the air fryer. Serve with your favorite dipping sauce like sweet and sour for a tasty appetizer.
Ingredients:
8 egg roll wrappers or spring roll wrappers
1 tablespoon flour
vegetable oil for brushing or cooking spray
Filling
1 pound ground pork
1 tablespoon fresh ginger grated
2 cloves garlic minced
4 cups packaged fresh coleslaw or 4 cups finely chopped cabbage & shredded carrots
2 green onions sliced
2 tablespoons soy sauce