Coffee Cheesecake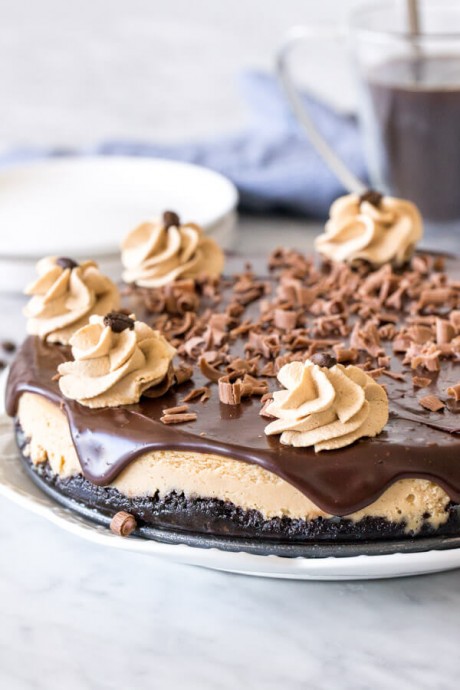 This extra creamy coffee cheesecake has an Oreo cookie crust, delicious espresso flavor, and a coffee-infused chocolate ganache on top. It's a decadent dessert that's perfect for coffee lovers.
Whenever I make cheesecake for a dinner party or gathering, I tend to eat the leftovers for breakfast. So with that in mind, I suppose it was only a matter of time before I combined the flavor of my morning coffee with creamy cheesecake. The tanginess of the cream cheese goes perfectly with the bitterness of the coffee for a cheesecake recipe that's not too sweet. The Oreo crust and chocolate topping make it a little extra decadent, plus chocolate and coffee go together perfectly.
To get started – you'll make the Oreo cookie crust. It's the standard crust recipe I use for so many cheesecakes made with crushed Oreo cookies and melted butter. You'll crush the cookies (wafers and filling) in a food processor until they're fine crumbs, and then mix with melted butter. The mixture gets pressed into the bottom and slightly up the sides to form a little ridge around the edges.
Then for the cheesecake filling, it's very similar to making classic New York cheesecake – but with the addition of the coffee flavor. For our coffee flavor, we're using instant coffee. It packs a punch without adding too much liquid to the batter (which would happen if just added brewed coffee). You'll dissolve the instant coffee granules in just a tiny bit of water. It doesn't need to completely dissolve at this point – the coffee will dissolve as it's beaten into the mixture. The water just helps to soften it. Then you'll make the cheesecake filling by beating the cream cheese, sugar and coffee until soft. Then in goes the sour cream (it makes the cheesecake velvety-smooth) and vanilla extract, and lastly the eggs. I always mix in the eggs last so that they don't get over mixed.
Ingredients:
25 Oreo cookies you'll use the filling and wafers
1/3 cup unsalted butter melted
2-3 teaspoons instant coffee powder
1 tablespoon hot water
24 oz cream cheese full-fat, brick style
1 1/4 cups white sugar
1 teaspoon vanilla extract
2/3 cup sour cream
3 large eggs
hot water for the waterbath
6 oz dark chocolate 50-70%
2/3 cup heavy cream
1 teaspoon instant coffee powder optional
1/2 cup heavy cream
1 teaspoon instant coffee powder