Ground Beef and Rice Casserole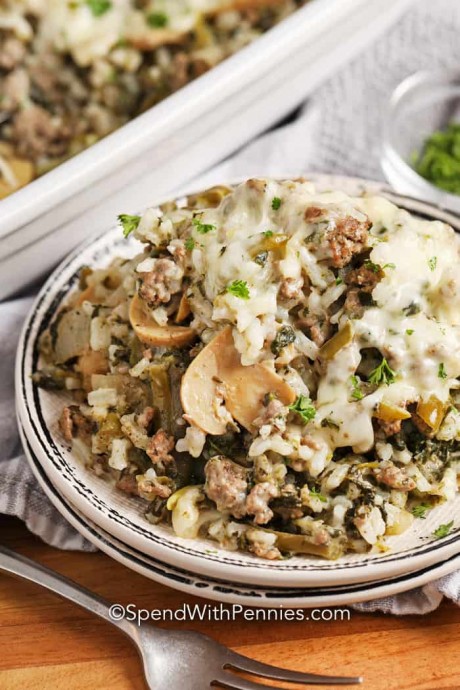 Ground Beef and Rice Casserole is a hearty and comforting combination of flavors.
Simply mix rice, frozen veggies and ground beef into a simple easy to make sauce. Top it all with cheese and bake until bubbly! Casseroles are easy to make, comforting and delicious, this recipe is no exception! It's versatile since you can use whatever veggies (or meats) that you happen to have on hand! Cooking ground beef with onion adds lots of flavor. Using instant rice keeps the cook time quick while making a hearty meal. Prepare this recipe in advance and bake just in time for dinner.
This recipe is so easily adaptable. Make it with chicken instead of ground beef. Make it with any "cream of" soup you have on hand. If you don't have Instant rice, add in any type of cooked rice can replace instant rice. If using cooked rice, reduce water to 1/2 cup. To replace frozen veggies, steam fresh veggies until tender crisp or use leftover veggies. This casserole is a full meal itself, especially with the addition of veggies. To stretch the meal or feed a crowd, add in one of the following: Grilled or boiled corn on the cob or steamed veggies are the perfect addition! Try a simple salad or a more make-ahead layered salad if you have time!
Ingredients:
1 pound lean ground beef
1 onion diced
1 can mushrooms sliced, drained
1 clove garlic minced
½ teaspoon oregano
10 ounces spinach chopped, frozen and squeezed dry
1 cup instant rice
1 ¼ cup water
10 ½ ounces cream of celery soup condensed
⅓ cup sour cream
salt & pepper to taste
1 cup mozzarella cheese shredded
½ cup frozen veggies