Beet and Burrata Salad with Fried Bread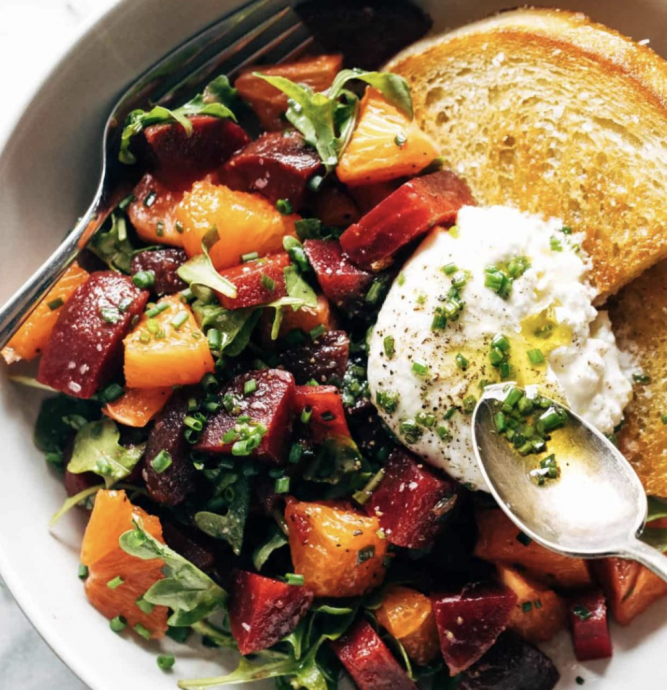 This Beet and Burrata Salad is everything you need. Juicy beets and oranges, a creamy and luscious burrata scoop, peppery arugula, a quick vinaigrette, and crispy fried bread. SO MUCH YES!
Calling this bowl of beauty "a salad" feels not quite right, because if we're being honest, salads leave a little to be desired sometimes.
But this salad – or maybe I should say, this big bowl of fried bread, juicy beets and oranges, quick vinaigrette, and creamy, luscious burrata – leaves exactly nothing be desired. The golden crispy-salty bites of the bread with the cool creaminess of the burrata and every juicy, vibrant, dressing-soaked bite of beets and oranges – it's the total package. It's a partial fork-and-knife, partial just-get-in-there-and-grab-that-bread-with-your-hands type of meal, which is my favorite kind.
Ingredients:
For the Dressing:
1/4 cup olive oil
1 tablespoon red wine vinegar
1 teaspoon Dijon mustard
a few taps of garlic powder
a big handful of chopped chives
salt and pepper to taste
(OR, a bottle of your favorite champagne dressing, lemon dressing, or similar)
For the Salad:
one 8-ounce package cooked beets
2 oranges
a handful of arugula
8 ounces burrata (two 4-ounce rounds)
4–6 slices white sourdough bread