Perfect 3-Bean Salad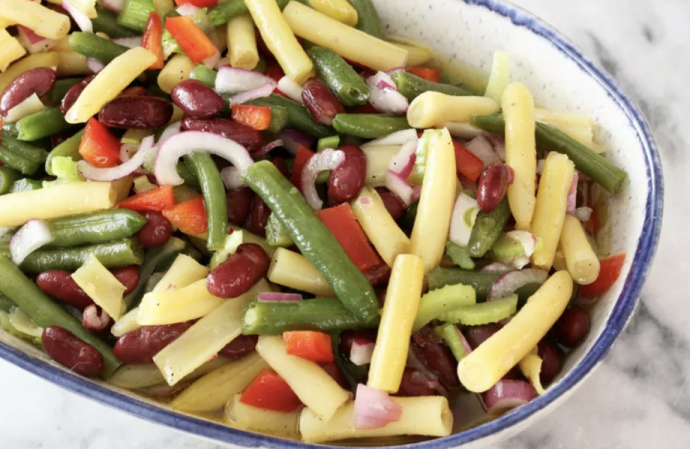 This three-bean salad is the kind of dish that people love at family reunions, potluck dinners, and cookouts. It's that salad that you keep chilled in a cooler and take along to a tailgating party or picnic. It's a combination of several different kinds of beans, and it's versatile and adaptable. The vinaigrette is a simple combination of oil and apple cider vinegar, along with some salt, pepper, and sugar.
It can be difficult to find yellow wax beans in some areas. Consider buying them fresh in season from farmers markets and freeze them. Use more green beans, canned lima beans, or another vegetable in their place. Fresh beans taste the best but canned will work, too.
Ingredients
1 (14 1/2 ounce) can cut green beans
1 (14 1/2 ounce) can cut yellow wax beans
1 (15 1/2-ounce) can red kidney beans, or white beans
1/2 cup chopped green bell pepper, or. multiple colors
1/2 red onion, sliced, about 1 cup
1/2 cup apple cider vinegar
1/3 cup vegetable oil
1/2 cup granulated sugar
3/4 teaspoon salt
1 teaspoon freshly ground black pepper