One Pot Taco Spaghetti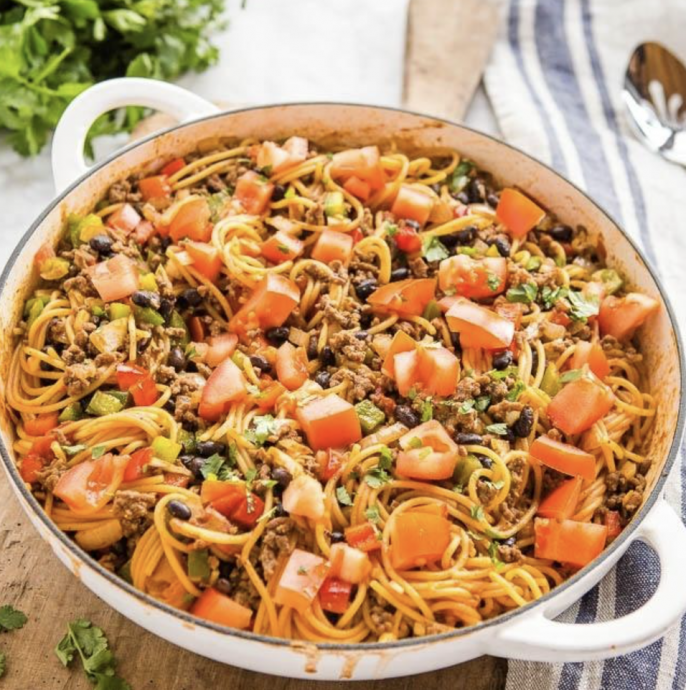 This One Pot Taco Spaghetti is an easy family meal packed with Tex-Mex flavours, made in one pot in under 40 minutes! A quick and easy comfort food dinner!
We love choosing a more inexpensive meat, like ground beef, and combining it with an even more inexpensive protein option like beans to create a protein-packed dinner that stretches the grocery budget. This One Pot Taco Spaghetti calls for both canned black beans and lean ground beef – use only half a pound of ground beef in this recipe and save the other half-pound in the freezer to use in another recipe. To save even more money, buy your lean ground beef in bulk and freeze it in 1/2-pound or 1-pound portions for use in all your favourite one-pan meals throughout the month!
Ingredients:
1/2 pound lean ground beef (use one pound if you prefer)
1 large onion diced
1 red bell pepper diced
1 green bell pepper diced
15 ounce canned black beans rinsed and drained
2 tablespoons taco seasoning (or use one packet)
15 ounce canned diced tomatoes
1 pound spaghetti noodles
3 1/2 cups chicken stock or use beef stock
1 cup chopped fresh tomatoes
serve with sour cream, shredded cheese, chopped fresh or pickled jalapenos, and fresh cilantro