Italian Chopped Salad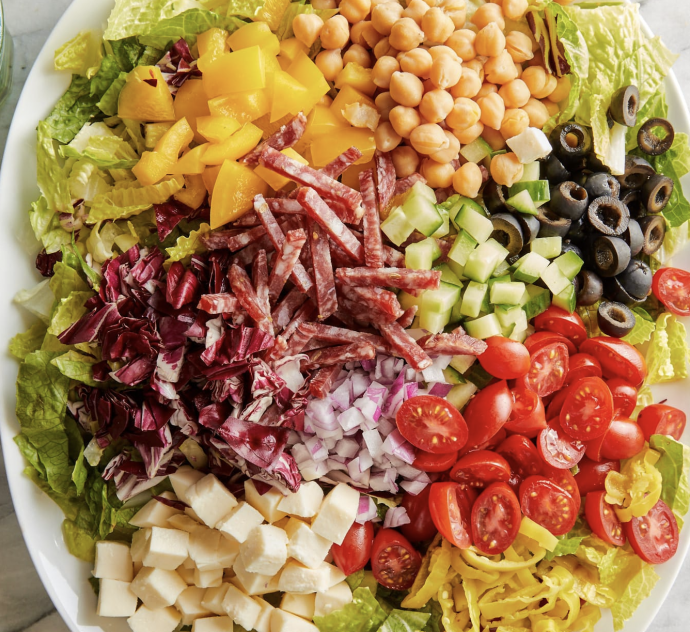 This salad is anything but boring here. Loaded with crisp romaine and radicchio lettuce, cubed mozzarella, dry Italian salami and a vibrant red wine vinaigrette, this salad will knock your socks off.
And the best part? Prep time is kept to a minimum as there is zero cooking involved and everything can be diced/prepped/assembled beforehand. Just be sure to toss your salad right before serving for maximum freshness. And don't forget to add your finishing touches with freshly shaved Parm!
Ingredients:
1 head romaine lettuce, roughly chopped
1 cup chopped radicchio lettuce
8 ounces fresh mozzarella, cut into 1/4-inch cubes
4 ounces dry Italian salami, cut into matchsticks
1 (15-ounce) can chickpeas, rinsed and drained
1 (2.25 ounce) can sliced black olives, rinsed and drained
1 yellow bell pepper, diced
½ English cucumber, diced
6 pepperoncini, sliced
1 cup halved grape tomatoes
⅓ cup chopped red onion
½ cup shaved Parmesan
FOR THE DRESSING
½ cup extra virgin olive oil
3 tablespoons red wine vinegar
2 teaspoons Dijon mustard
1 clove garlic, grated
¾ teaspoon dried oregano
⅛ teaspoon crushed red pepper flakes
Kosher salt and freshly ground black pepper, to taste