Instant Pot Butter Chicken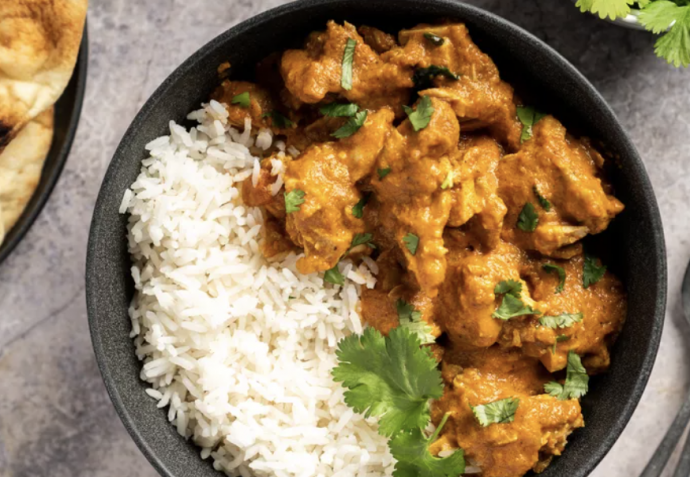 If you polled a crowd on what their favorite Indian dishes were, you would probably find butter chicken up at the top. A much-loved Indian dish, it originated in the 1950s in a Delhi restaurant. The rich combination of butter, spices, tomato, and cream makes a velvety sauce that has become a worldwide favorite. The complex flavors come from a variety of spices, which include garam masala, cumin, and coriander. Garlic and ginger add to that flavor and the finishing touch of butter and cream gives the dish its signature texture.
While many butter chicken recipes begin with a yogurt and spice marinade for the chicken, this pressure cooker version requires very little prep time. Boneless chicken thighs are used in this dish because of their excellent tender texture, but feel free to make the dish with boneless chicken breasts.
Serve this delicious butter chicken with white or brown rice, naan bread, and yogurt, if desired.
6 tablespoons ghee
1 large onion, chopped
4 cloves garlic, minced
1 tablespoon ginger, minced
1 tablespoon garam masala
1 teaspoon ground turmeric
1 teaspoon paprika
1 teaspoon kosher salt
1/2 teaspoon ground coriander
1/2 teaspoon ground cumin
1/4 teaspoon cayenne pepper, or more to taste
1/3 cup low-sodium chicken stock
2 (14.5-ounce) cans diced tomatoes, with juices
1 1/2 to 2 pounds boneless chicken thighs
4 tablespoons tomato paste
2/3 cup heavy cream
1 teaspoon honey
1/4 cup cilantro chopped
1 cup rice, for serving