Lemon Herb Pasta Salad with Marinated Chickpeas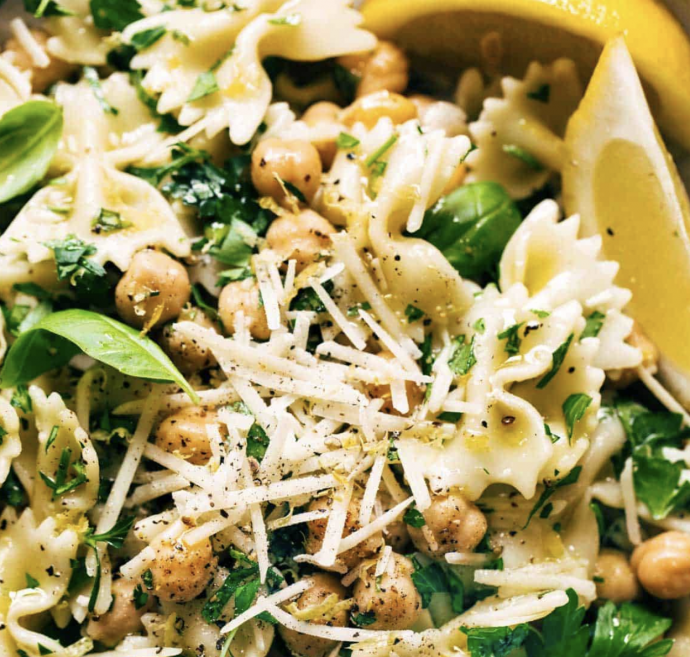 A super fresh, super summery Lemon Herb Pasta Salad! Packed with tangy marinated chickpeas, chewy pasta, lots of herbs and garlic, lemon juice and olive oil, and a handful of parmesan to top it off.
Consider this your weekly (daily?) reminder that really delicious food does not need to be complicated.
The basics – garlic, lemon, herbs, olive oil – are prepared to deliver. They are usually somewhere in the pantry or fridge, and they are always going to serve us well.
I give you Exhibit A: The Lemon Herb Pasta Salad with Marinated Chickpeas which involves deliciously squishy pasta coated in a silky "sauce" of olive oil and lemon juice, tossed with chickpeas that have been soaking in a flavor bath of fresh garlic and herbs and such, and finished with more herbs and lots of salt and pepper and some Parmesan cheese. Is it good warm? Is it good cold? Is it good as a side or a main or a… snack? The answer to all of the above is Y-E-S.
Ingredients:
Marinated Chickpeas
one 14 ounce can chickpeas, drained and rinsed (DeLallo)
1/4 cup olive oil
1 clove garlic, grated or crushed into a paste
a generous squeeze of lemon juice
1 teaspoon salt
Pasta
8 ounces farfalle pasta (DeLallo)
1/4 cup olive oil (as needed) (DeLallo)
juice and zest of one lemon
1/2 cup finely chopped parsley and basil
salt and pepper to taste
1/2 cup freshly grated Parmesan cheese