Authentic Eggplant Parmesan (Parmigiana Di Melanzane)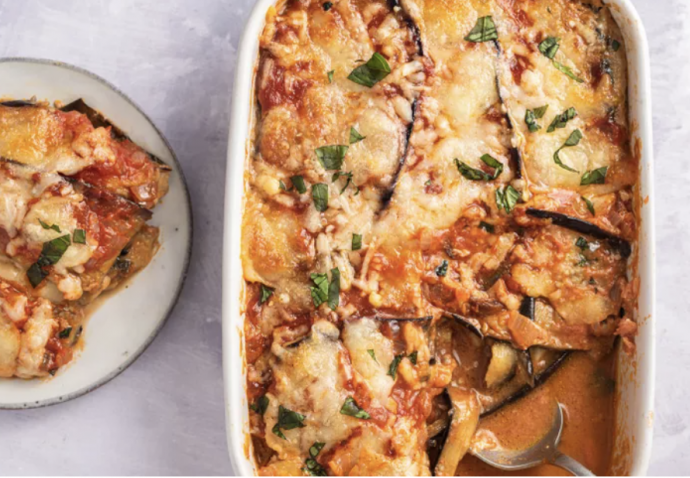 Eggplant Parmesan (Parmigiana di melanzane), is a true classic Italian dish that has become immensely popular around the world. So much so, it has spawned other versions of "Parmesan"-style dishes that don't really exist in Italy (or at least not under this name), such as chicken Parmesan and veal Parmesan. It is, however, sometimes made with zucchini in place of eggplant in Italy, where it is called Parmigiana di zucchine.
The Italian-American version is usually breaded before frying, but the traditional Italian version is not. As a result, it's not only lighter, faster, and easier to prepare, but you can really taste the rich eggplant flavor. If you are a fan of eggplant, then you may prefer this recipe. If you want to make it even lighter, you could grill or bake the eggplant slices instead of frying them.
This is an incredibly comforting dish that makes a hearty side (contorno) or a satisfying meatless/vegetarian main, together with a salad and some crusty Italian bread. Serve with a full-bodied Merlot or Chianti.
Ingredients
For the Eggplant:
2 1/2 pounds eggplant (about 2 to 3 medium eggplants)
1 teaspoon coarse salt
1 cup vegetable oil, or enough needed for frying
For the Tomato Sauce:
2 tablespoons olive oil
1 clove garlic, finely minced
1 small onion, finely chopped
2 cups tomato puree (passata di Pomodoro)
1/8 teaspoon fine salt, or to taste
For the Parmigiana:
2 small eggs
1/2 cup freshly grated Parmigiano-Reggiano
1 cup small fresh basil leaves, washed, dried, and coarsely chopped, optional
1 (9-ounce) ball of soft, fresh mozzarella, preferably buffalo mozzarella, torn into pieces