Ramen Noodle Salad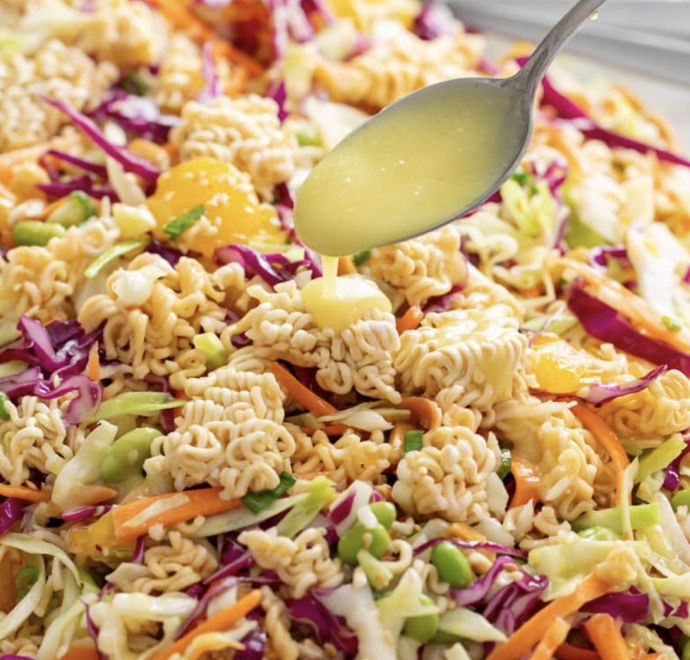 This Ramen Noodle Salad recipe is easy to make with a delicious homemade dressing, crispy cabbage, mandarin oranges, and more! It's the best cold side dish recipe for potlucks and pairs well with chicken, beef, and pork.
It's amazing how much flavor and crunch that a simple packet of ramen noodles can add to this incredible Ramen Noodle Salad! This recipe is cool, refreshing, and super easy to make.
Ingredients:
Salad
2 (3 oz.) packages Ramen noodles, chicken flavor
½ cup slivered almonds, raw
1/3 cup edamame, I use frozen beans, (not pods).
4 cups green cabbage, shredded
2 cups red cabbage, shredded
1 cup carrots, julienned
11 oz. mandarin oranges, drained and patted dry
¼ cup green onions, diced
3 tablespoons toasted sesame seeds
Dressing-makes 1 cup
½ cup peanut oil, can sub avocado, vegetable, or canola oil
1/3 cup rice vinegar, can sub white vinegar
2 ramen seasoning packets
2 tablespoons honey
¾ teaspoon garlic powder
½ teaspoon ground ginger
1/8 teaspoon toasted sesame oil