Grilled Peach Salad With Burrata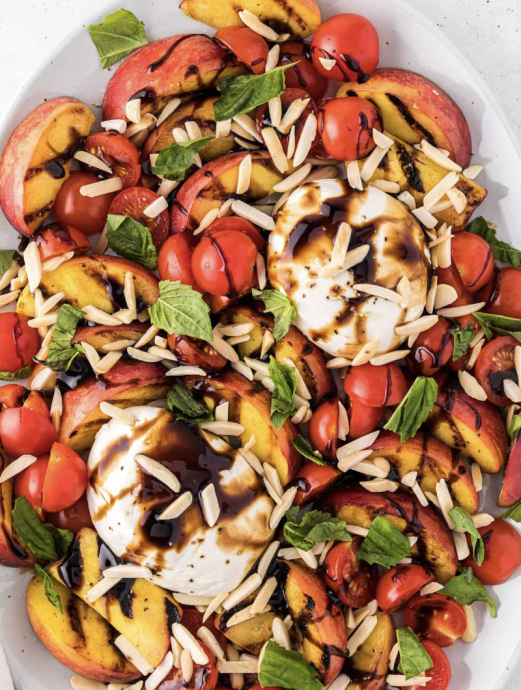 This stunning grilled peach and burrata salad is sure to be a crowd-pleaser. It's simple enough to throw together on a busy weeknight but elegant enough to impress your guests when you entertain.
This beautiful grilled peach salad is the sort of salad you want to present with a flourish and say "Ta-da!" It's that impressive and trust me, it isn't difficult at all to create your own magazine-worthy grilled peach salad.
I know how it is. You page through magazines or scroll through the internet, and you see all these amazing photos of drool-worthy food, thinking to yourself, "Well, mine would never look like that. They have professional food stylists and photographers."
Fear not, professionals aren't needed to make this grilled peach salad look great. It's easy! When you start with gorgeous ingredients like fresh in-season peaches and tomatoes, creamy white burrata, and emerald green basil, you really can't mess up.
Does it taste as great as it looks? You betcha! All the tastes of summer combined in a stunningly delicious salad. Try it today before the peach season is over!
Ingredients:
¼ cup slivered raw almonds
1 pint cherry tomatoes, halved (about 2 cups)
½ teaspoon kosher salt, divided
½ teaspoon coarse ground black pepper, divided
8 ounces burrata, patted dry
2 tablespoons olive oil
3 peaches, ripe but still firm
2 tablespoons balsamic glaze
½ cup loosely packed fresh basil