Crispy Bean Tostadas with Smashed Avocado and Jicama-Cilantro Slaw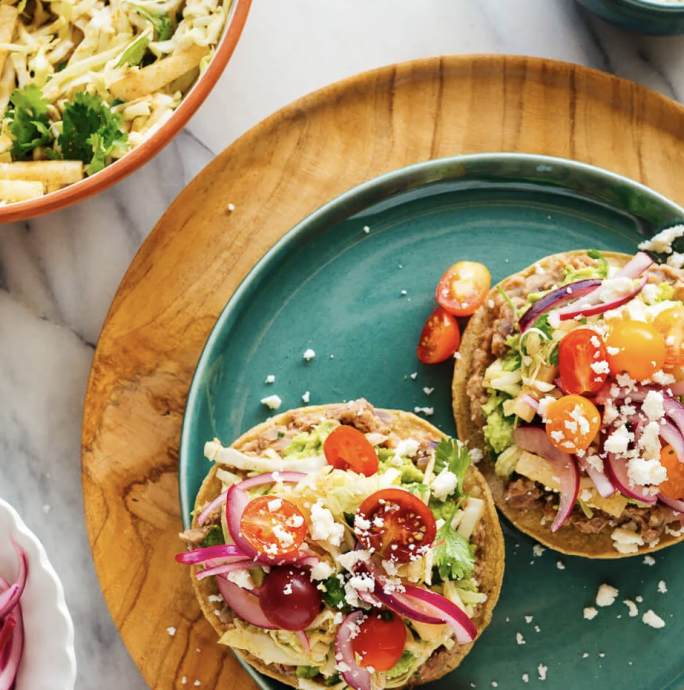 Any tostada fans out there? If you love tacos, you'll love tostadas. Tostadas are basically flat tacos with a crispy tortilla base. They're a little messy to eat—don't order them on a first date—but so fun and satisfying.
These vegetarian tostadas (which are easily made vegan if you omit the cheese) are layered with several components. Maria's techniques help these tostadas come together quickly.
Ingredients
Pickled red onions
½ medium red onion, thinly sliced
Juice of 1 lime
1 tablespoon white vinegar
Pinch of salt
Jicama-Cilantro Slaw
2 cups shredded green cabbage
½ cup fresh cilantro leaves
½ cup ¼-inch-thick slices peeled jicama, or additional shredded cabbage
Juice of 1 lime
½ teaspoon ground cumin
½ teaspoon chili powder
Salt and freshly ground black pepper, to taste
Tostadas
6 corn tortillas
Extra-virgin olive oil or cooking spray
Salt, to taste
2 cans (16 ounces each) vegetarian refried beans, or 1 batch homemade refried beans
3 large ripe avocados, pitted and peeled
Juice of 1 lime
½ cup halved grape tomatoes
½ cup crumbled queso fresco or feta cheese
: