Frozen Lemon Dessert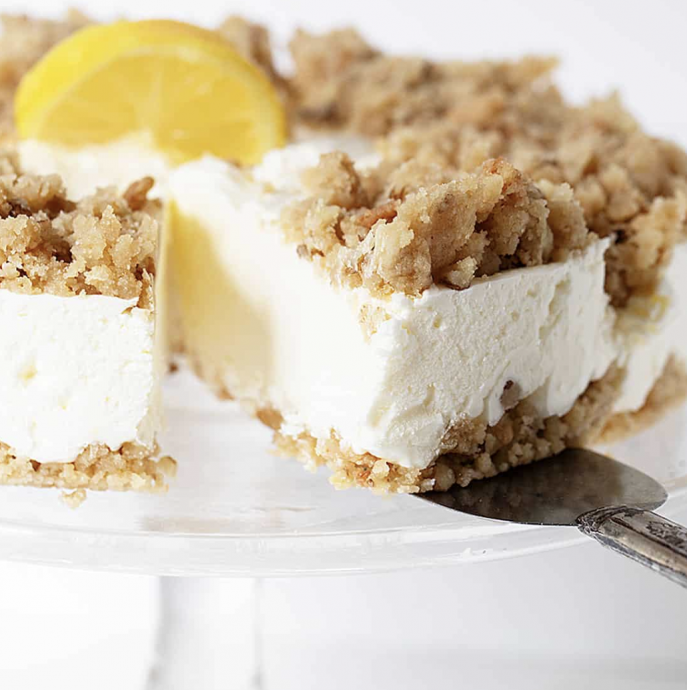 A light and refreshing frozen lemon cake, with a crumb topping and base and a light, creamy lemon filling.
This frozen lemon dessert is both light and full of flavour. A refreshing bite any time of year, but especially welcome as a dessert.
Make this frozen dessert ahead and store in the freezer, to have a handy dessert ready to enjoy. Serve right from the freezer. This frozen dessert is tailor made for making ahead, as it needs to set-up in the freezer before serving. It keeps incredibly well in the freezer, so it's a great dessert to have on hand to enjoy anytime. It is perfect served directly from the freezer.
Freeze well-wrapped, up to 3 months.
Ingredients:
Crumble:
1 cup all purpose flour, spooned and levelled
1/2 cup light brown sugar, packed
1/2 cup walnuts, finely chopped
1/2 cup salted butter, melted
Lemon Filling:
2 large egg yolks, pasteurized
1/3 cup lemon juice, strained
1 Tablespoon lemon zest
2 large egg whites, pasteurized
1/4 cup white granulated sugar
1 1/2 cups whipping cream, 35% b.f.
1/4 cup white granulated sugar