Chicken Corn Soup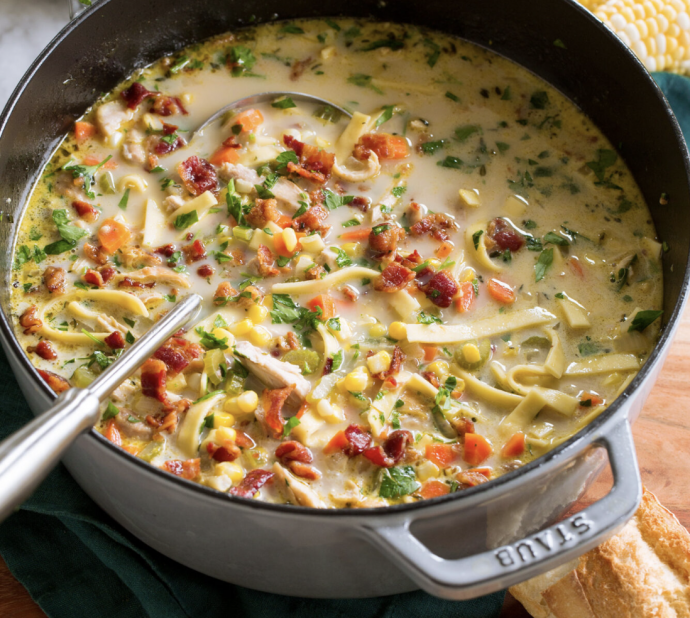 Homestyle Chicken Corn Soup! A super cozy soup made with noodles (or homemade rivels), tender browned chicken, sweet corn, salty bacon, plenty of veggies and a lightly creamy broth. Such a satisfying soup to make year round!
Can you add corn to chicken noodle soup? Absolutely and it makes such a delicious soup!
That's just what you get in this soup recipe. It's like chicken noodle soup upgraded with fresh juicy corn, plus we dot it in some bacon and blend in some cream for good measure.
It's also similar to a chowder, and it's adaptable to what you have on hand (as usual see ideas below). For instance you can replace bacon with ham or make this Pennsylvania Dutch style with homemade mini dumplings called rivels in place of noodles (making the soup completely from scratch!).
Ingredients:
1 Tbsp olive oil
2 lb. bone-in, skin on chicken thighs, skins removed, excess fat trimmed
Salt and black pepper
1 3/4 cups chopped yellow onion (1 large)
1 1/2 cups chopped carrots (about 4 medium)
1 cup chopped celery (about 3 ribs)
1 Tbsp minced garlic (3 cloves)
4 (14.5 oz) cans low-sodium chicken broth (7.5 cups)
3 ears fresh corn (3 cups corn)
2 bay leaves
1 Tbsp chopped fresh thyme, or 1 tsp dried
2 cups (heaping, 4.5 oz) old fashioned egg noodles*
1/2 cup heavy cream
1/4 cup chopped fresh parsley
6 slices bacon, cooked, chopped