Bacon, Potato, and Egg Casserole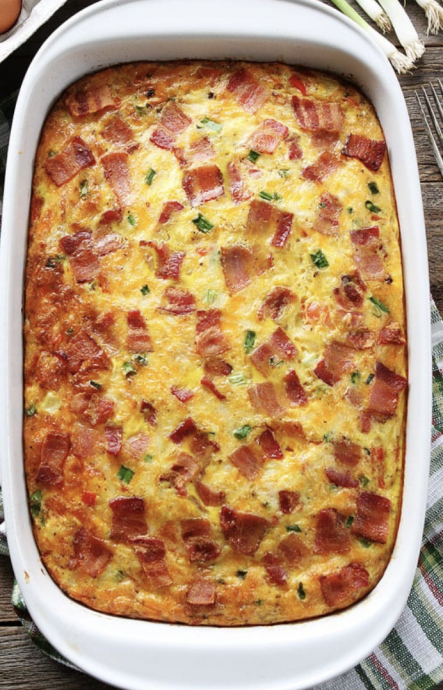 Bacon Potato, and Egg Casserole – this easy breakfast casserole is packed with bacon, potatoes, and cheese! It can be prepared ahead of time and is a real crowd pleaser!
This is the perfect egg casserole for Christmas morning because it is easy to make, feeds a crowd, and everyone loves it! And, it has bacon. Loads of it. Our boys' eyes light up like the lights on our Christmas tree when they hear the word bacon:)
This easy breakfast casserole is filled with Wright Brand Naturally Smoked Applewood Bacon, cheddar cheese, and potatoes. Josh also adds onion, red pepper, and garlic for flavor.
Ingredients:
1 lb bacon, cut into 1/2-inch strips
1 yellow onion diced
1 red bell pepper seeds removed and diced
3 cloves garlic minced
12 large eggs
1 cup milk
3 cups frozen diced potatoes you don't have to thaw or cook the potatoes
2 cups shredded cheddar cheese divided
1 1/2 teaspoons salt
1/2 teaspoon black pepper
2 green onions chopped