Bananas Foster Pull-Apart Bread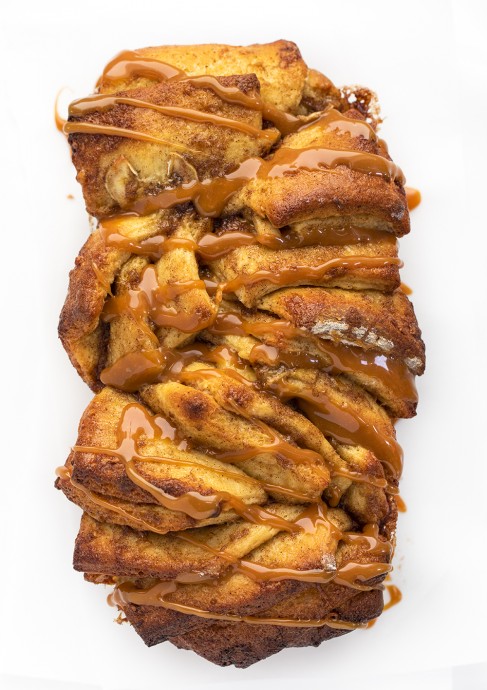 Bananas Foster Pull-Apart Bread is ooey-gooey homemade bread that is filled with bananas and drizzled with caramel sauce. There is no alcohol or flames to make this delicious bread. But, you will still get the banana fosters flavors of the bananas coated in butter, brown sugar, and cinnamon. (You could add a little bit of rum extract if you wanted.) The flavors are baked into this delicious bread that can be enjoyed with a morning cup of coffee, as a snack, or even served as a dessert.
Although Bananas Foster is an elegant and fancy dessert, there are no fancy ingredients needed to make this recipe. In fact, you may have what you need already on hand! Plus, there are no matches or alcohol needed. Bananas: You will need 2 ripe bananas for this recipe. One banana will be smashed and the other one sliced. Lukewarm Milk and Water: When a recipe calls for lukewarm milk or water, it means that a thermometer should read between 100°F and 115°F. This is warm enough to activate the yeast. If the water is too cold, it won't get the yeast going; if the water is too hot, it will kill it. You can always run water over your wrist to check for the water temperature to be warmer than your body temperature.
Ingredients:
3 cups (375g) all-purpose flour
¼ cup (50g) granulated sugar
½ teaspoon salt
2 ¼ teaspoons (1 packet) instant yeast
4 tablespoons unsalted butter, melted
⅓ cup lukewarm milk
¼ cup lukewarm water
1 teaspoon vanilla extract
2 large eggs, room temperature
FILLING
2 ripe bananas, divided (1 mashed, 1 sliced)
½ cup (100g) brown sugar
2 teaspoons cinnamon
¼ cup (1/2 stick or 57g) butter, melted
TOPPING
caramel sauce, for drizzling on warm bread