Mango Ginger Rice Bowl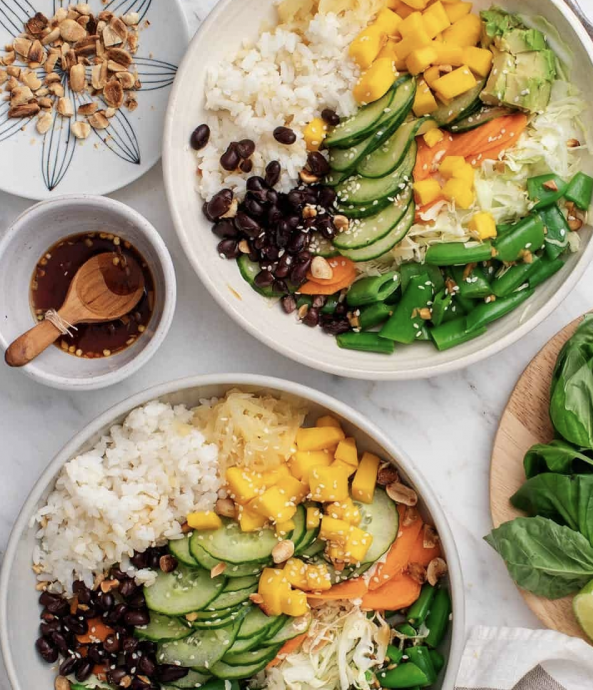 This rice bowl is one of our go-to meals when we're craving something light. It's easy to make, and mango, ginger & basil make it wonderfully refreshing.
Along with the sauce, I filled these bowls with mango, black beans, shredded cabbage, and a few crunchy veggies – blanched snap peas, sliced cucumbers, and carrots. The interesting pops of flavor come not only from that dressing, but also from pickled ginger, sliced basil, and a combo of toasted peanuts and sesame seeds. (If you're nut-free, skip the peanuts and just go for the sesame seeds).
Ingredients:
Ingredients
2 handfuls snap peas, strings removed
1 to 2 cups cooked short grain white rice*
2 cups shredded green cabbage
1 small carrot, sliced into very thin coins
½ English cucumber, thinly sliced into coins
1 small ripe ataulfo mango, diced
½ cup cooked black beans, drained and rinsed
2 tablespoons pickled ginger
¼ cup thinly sliced fresh basil
¼ cup toasted peanuts, optional
Sprinkle of sesame seeds, optional
¼ to ½ avocado, optional
Dressing
2 tablespoons tamari, more for serving
2 tablespoons rice vinegar
2 tablespoons lime juice
2 garlic cloves, minced
2 teaspoons cane sugar
½ teaspoon sriracha, more for serving