7 Layer Salad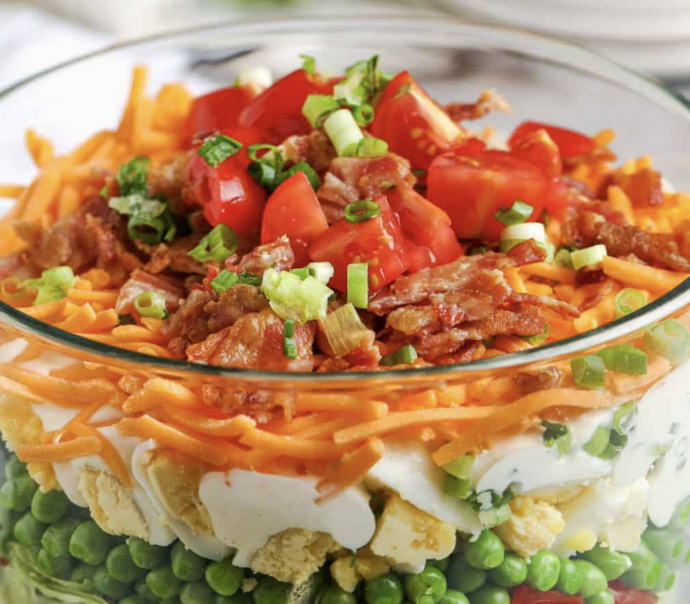 This overnight 7-layer salad recipe is everyday easy in addition to being party perfect! Layers of fresh lettuce, veggies, cheese, and bacon are topped with a creamy dressing to make this seven layer salad! It's fresh, crunchy, and delicious, a welcome addition to any meal.
What is 7 Layer Salad? A traditional 7-layer salad recipe starts with a base of crisp iceberg lettuce followed by 6 additional layers. We add tomatoes, peas, green onions, hard-boiled eggs, cheese, and bacon with a mayonnaise-based dressing added in the middle. A little "chill" time (overnight) is recommended, making this salad recipe potluck perfect. Serve it in a pretty trifle bowl or a clear 9×13 dish so everyone can see the delicious layers!
What's in Seven Layer Salad?
Mix and match the ingredients, you can add as many layers as you'd like to this overnight salad.
For the Salad:
1 head iceberg lettuce, chopped
2 cups tomatoes, diced, or sliced cherry tomatoes
2 cups frozen peas, defrosted (uncooked)
1/2 cup green onions or red onions, sliced
8 hard-boiled eggs, cooled, peeled, and chopped
2 cups cheddar cheese, shredded
8 slices bacon, cooked crisp and crumbled
For the Dressing:
1 cup mayonnaise
3/4 cup sour cream
2 tablespoons sugar
1 teaspoon seasoned salt