Pizza Chicken Bake (Pepperoni Pizza Stuffed Chicken Breast)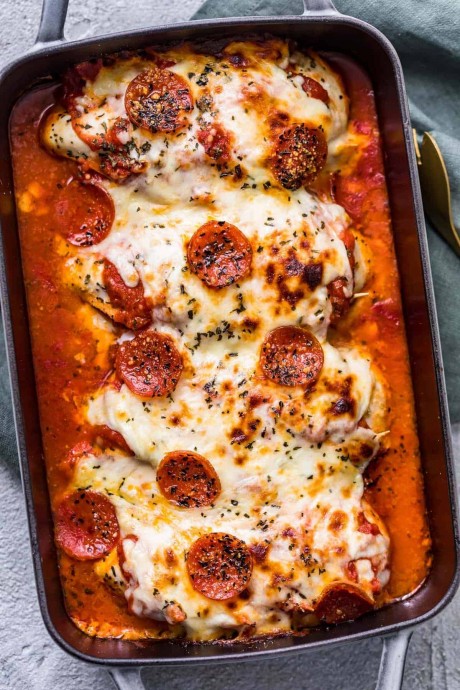 This easy pizza chicken bake recipe has all of the flavors of a pepperoni pizza stuffed inside chicken breasts for a low carb family meal. Quick enough to make for a weeknight dinner with simple ingredients. I love how simple this pizza chicken bake is to make, it takes about 15 minutes to prep and then into the oven it goes. I would wager that you already have most of the ingredients for this dish in your pantry too!
You can easily prepare this dish ahead of time, and then just bake it in the oven when you are ready to serve it.
I wanted to go with classic pizza flavors for this chicken bake; marinara, pepperoni and mozzarella with Italian seasoning – you can't go wrong! The marinara and pepperoni add a real flavor explosion to the chicken that is oh so familiar, and the mozzarella brings creaminess and those cheese pulls! This is a great main dish to make if you are following a low carb diet, or trying to cut back. The baked chicken is juicy and succulent and the flavors are bold. This is a great dish to serve with cauliflower rice or sautéed asparagus, and if your not watching the carbs mashed or roasted potatoes would work wonderfully!
Ingredients:
4 boneless skinless chicken breasts
1/2 tablespoon olive oil
salt and pepper to taste about 1/2 teaspoon each
2 teaspoons garlic powder
2 teaspoons Italian seasoning
1 jar marinara sauce 24 ounces
4 slices thick cut mozzarella cheese
30 slices pepperoni
1 cup shredded mozzarella cheese
1/8 cup grated parmesan cheese