Sun-Dried Tomato Pesto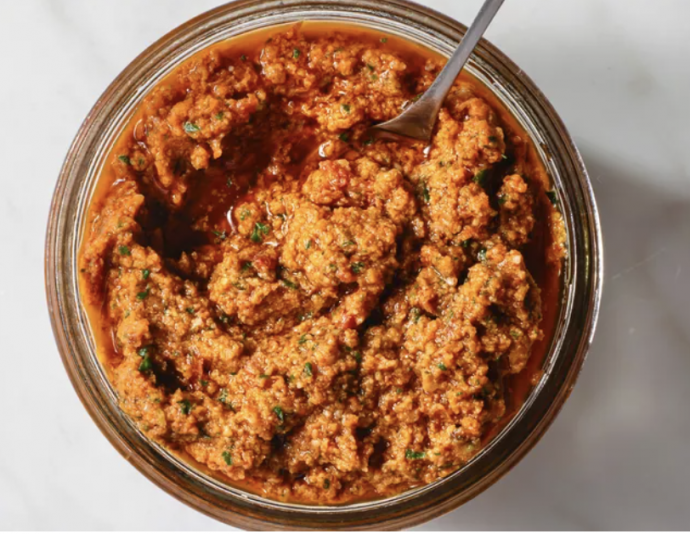 Take your pesto game up a notch with this flavor-packed sun-dried tomato pesto. It's just as easy to make as classic pesto, but with the added color and sweet, savory boost of sun-dried tomatoes. While this recipe makes a well-balanced sauce, it's easy to tweak based upon what you have and what your taste buds are feeling. Swap out the fresh basil or leave out the cheese—it's an easy recipe to play around with.
This recipe calls for sun-dried tomatoes packed in oil as they are softer and easier to blend. The sauce incorporates the oil for even more flavor, adding just enough olive oil to make a smooth mixture. If you're using tomatoes without the oil, soak them in half a cup of oil for at least a few days before using. For an extra special spread, use homemade sun-dried tomatoes.
Add sun-dried tomato pesto to pizzas, pasta, sandwiches, crostini, dips, salad dressings, and more. It'll liven up any dish with its umami-rich flavor.
Ingredients:
1/2 cup walnuts
1 cup drained and packed sun-dried tomatoes in oil, oil reserved (from an 8 to 8.5-ounce jar)
1/4 to 1/2 cup extra-virgin olive oil
1/2 cup tightly packed fresh basil leaves
1/3 cup grated Parmesan cheese
2 cloves garlic, peeled
1/2 teaspoon finely grated lemon zest
1/2 teaspoon kosher salt
1/4 teaspoon red pepper flakes, optional