Creamy Wild Rice Soup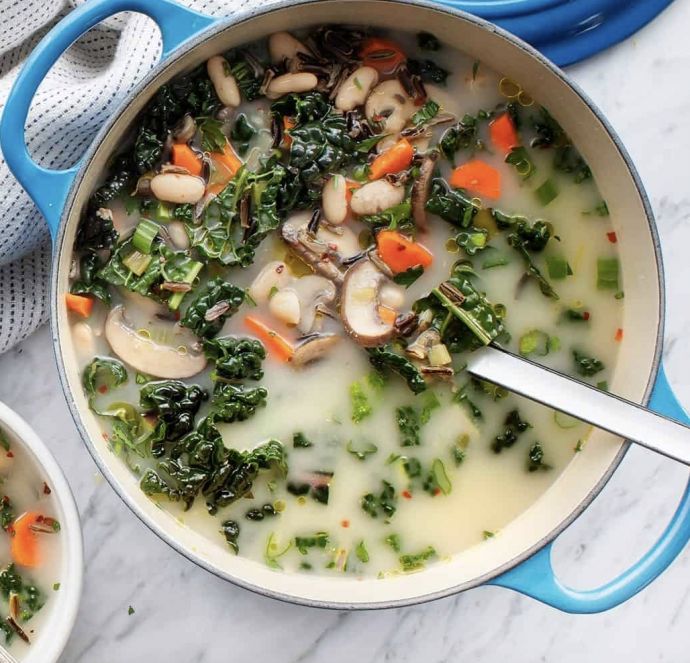 When you're craving something that combines the warmth of comfort food with the nourishment of healthy ingredients, look no further than this creamy wild rice soup. As the leaves start to fall and the weather turns chilly, this soup offers the perfect blend of comfort and health. It's a delightful, hearty soup enriched with autumn vegetables and herbs that infuse it with rich, savory flavors.
Ingredients:
Creamy Base:
1 cup unsweetened almond milk
⅓ cup raw cashews
¼ cup cooked cannellini beans, drained and rinsed
2 tablespoons white miso paste
2 teaspoons Dijon mustard
Soup:
2 tablespoons extra-virgin olive oil
1 bunch scallions, white and light green parts, chopped
1 celery stalk, chopped
1 large carrot, chopped
8 ounces cremini mushrooms, sliced
1 teaspoon sea salt
4 garlic cloves, minced
2 tablespoons minced rosemary
1 bunch of thyme, bundled
1¼ cups cooked cannellini beans, drained and rinsed
½ teaspoon freshly ground black pepper, more for serving
4 cups water
1 cup cooked wild rice
1 to 2 tablespoons fresh lemon juice
4 cups chopped kale
Chopped parsley for garnish, optional
Pinches of red pepper flakes, optional
This creamy wild rice soup is not your average soup – it's a vegetarian delight filled with nutty wild rice, white beans, and a unique creamy base. It's the perfect way to warm up during the fall and winter seasons. Serve it as a satisfying main course, paired with crusty bread, and enjoy the nourishing flavors of the season.