Walnut Sauce for Pasta and Gnocchi (Salsa di noci)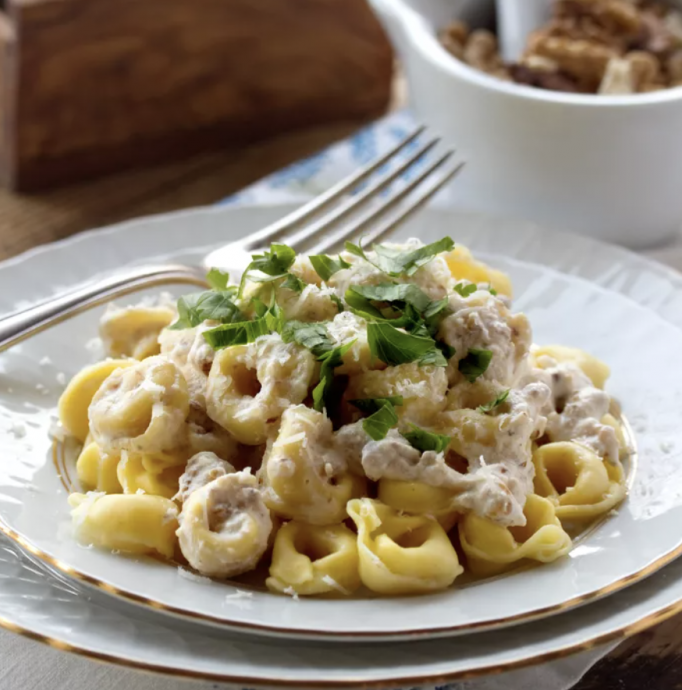 This super quick-and-easy, no-cook sauce, hailing from northwestern Italy's coastal Liguria region, is great on gnocchi or any short, fresh pasta such as trofie or corzetti. Delicate and subtle, it's also ideal for filled pasta such as ravioli or tortellini, as it's delicate enough not to overpower the flavor of the filling.
Allegedly it originated as a sauce for Genovese-style pansotti, a triangular Ligurian pasta stuffed with a filling of ricotta and chard, spinach, and wild herbs such as borage. It's good on long, thin pasta as well, such as spaghetti or thick, chewy pici. You can also serve this as a simple antipasto or appetizer, spread on slices of crusty bread or crostini (small toasted slices of bread).
Sometimes this sauce is made with half walnuts and half pine nuts, with the addition of a splash of white wine, or with cream, but we prefer this simpler, lighter version, made with just walnuts, garlic, and milk.
It would pair well with a white Ligurian wine such as a Pigato or Vermentino, or a Prosecco when served as an antipasto.
Ingredients
2 slices of soft white bread (about 30 grams), crusts removed and torn into pieces
1/4 to 1/2 cup whole milk
1 cup (4.4 ounces/125 grams) shelled walnuts
1-2 cloves of garlic, peeled and finely minced
1/4 cup freshly grated Parmigiano-Reggiano cheese
3 tablespoons extra-virgin olive oil
Pinch of fine sea salt
Pinch of freshly ground nutmeg
Optional: 1 teaspoon fresh marjoram leaves
Optional toppings for serving: fresh marjoram leaves, minced fresh flat-leaf parsley leaves, toasted chopped walnuts, additional grated Parmigiano-Reggiano cheese