Apple Pecan Salad with Creamy Lemon Dressing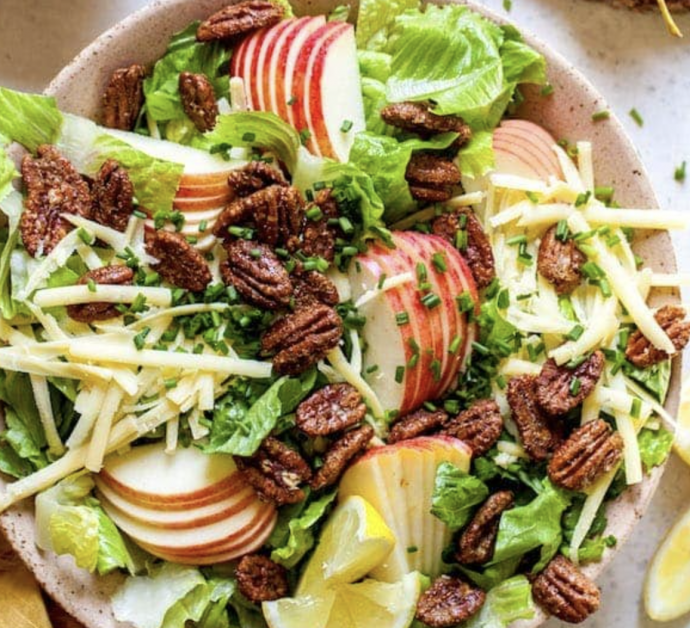 This Apple Pecan Salad with Creamy Lemon Dressing is a fall favorite and a guaranteed hit at gatherings, potlucks, Thanksgiving, and dinner parties. Created by my dear friend Taryn, this salad is a true crowd-pleaser, boasting a perfect blend of flavors and textures. The star of this salad is the creamy lemon dressing, which pairs harmoniously with crisp apples, candied pecans, and white cheddar cheese.
Key Features:
The Perfect Fall Salad: This delightful salad combines the best fall flavors, making it a seasonal favorite. With fresh apples, candied pecans, and creamy lemon dressing, it captures the essence of autumn.
Creamy Lemon Dressing:
This luscious dressing is exceptionally creamy and bursts with bright flavor. You have the option to use crème fraiche or plain Greek yogurt, both of which work beautifully. The dressing is the perfect blend of tangy and sweet, and it complements the salad's other ingredients.
Best Lettuce Choice:
To support the rich, creamy dressing, opt for Romaine lettuce. Its heartiness ensures that the dressing doesn't make the leaves wilt. If you prefer kale, it's another excellent choice that holds up well under this dressing's richness.
Picking the Right Apples:
Apples are the star ingredient of this salad, and the best choice for fall salads is Honeycrisp apples. Their juiciness and crispness perfectly complement the other salad components. Sliced apples are lightly drizzled with fresh lemon juice to prevent browning and to enhance the salad's overall zesty appeal.
Candied Pecans:
The addition of candied pecans brings a delightful crunch and sweetness to the salad. Homemade candied pecans are not only easy to make but also fill your kitchen with a wonderful aroma. If you don't have pecans, you can substitute them with walnuts following the same candied pecan recipe.
White Cheddar Cheese:
To elevate this salad, use aged white cheddar cheese. White cheddar and apples create a heavenly pairing. You can usually find good quality white cheddar cheese at the cheese counter of your local grocery store. Using a peeler or grater, you can create longer shavings of cheese for an enhanced cheddar flavor in each bite.
Perfect Fall Salad:
When all the ingredients are ready, toss them together in a large bowl right before serving. This salad is at its best when served fresh, so assemble and toss it immediately before your meal. It's a great addition to dinner parties, potlucks, Thanksgiving feasts, or even weeknight dinners. You won't be disappointed with this delicious and seasonally inspired Apple Pecan Salad with Creamy Lemon Dressing.
Ingredients:
For the Creamy Lemon Dressing:
3/4 cup crème fraiche or plain Greek yogurt
3 tablespoons freshly squeezed lemon juice
Zest of one lemon
2 tablespoons honey
1/2 teaspoon kosher salt
For the Salad:
2 heads Romaine lettuce, chopped
2 large Honeycrisp apples, thinly sliced
1 tablespoon fresh lemon juice
1 cup candied pecans
4 oz. aged white cheddar cheese, grated with a potato peeler or large grater
1 tablespoon minced chives