Twix Caramel Cookie Bars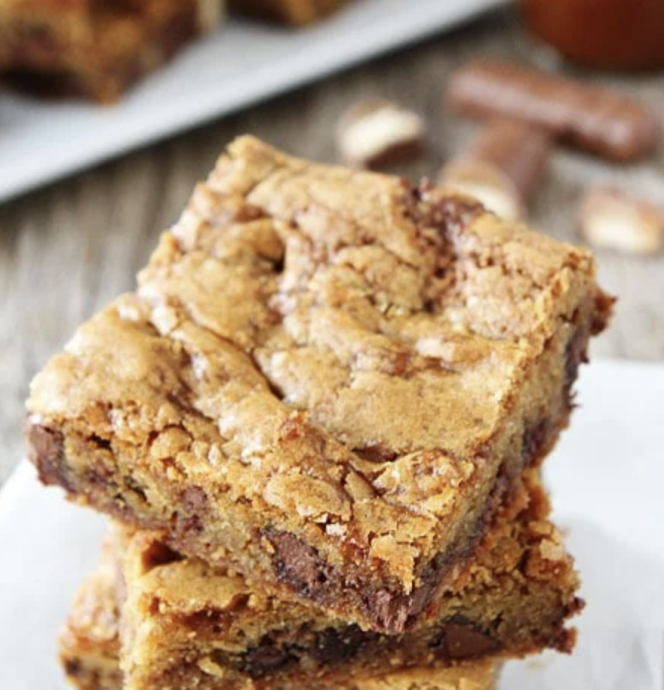 Indulge your sweet tooth with a delightful treat that combines the classic charm of chocolate chip cookies with the irresistible allure of Twix candy bars. These Twix Caramel Cookie Bars are a heavenly creation, loaded with layers of flavor that will transport you to dessert paradise. Imagine a rich and buttery chocolate chip cookie base generously studded with chunks of Twix candy bars, topped with a decadent drizzle of salted caramel sauce. This recipe is the epitome of dessert perfection – a harmonious blend of textures and tastes that will leave your taste buds singing.
Why You'll Love These Bars:
Irresistible Combination: These bars marry the beloved flavors of chocolate chip cookies and Twix candy bars, creating a match made in dessert heaven.
Decadent Caramel Drizzle: Elevating the bars to the next level is the luscious addition of salted caramel sauce, adding a perfect balance of sweetness and savory notes.
Texture Galore: Experience the delightful contrast of the chewy chocolate chip cookie, the crunchy Twix candy bars, and the silky smooth caramel – a symphony of textures in every bite.
Ingredients:
Gather these pantry staples to create your own batch of Twix Caramel Cookie Bars:
2 1/8 cups all-purpose flour
1/2 teaspoon sea salt
1/2 teaspoon baking soda
12 tablespoons butter, melted and cooled to room temperature
1 cup light brown sugar
1/2 cup granulated sugar
2 large eggs
2 teaspoons vanilla extract
1 1/2 cups chopped Twix candy bars
1 cup milk chocolate chips
4 tablespoons salted caramel sauce
Sea salt for sprinkling over bars