Vegetarian Stuffed Peppers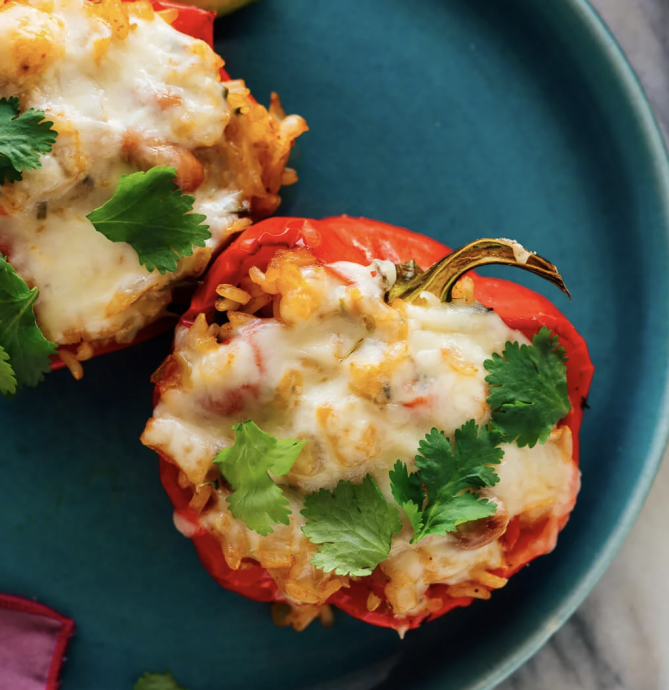 These stuffed peppers aren't the kind your mom made. They're meatless and loaded with fresh flavor. They're cheesy as shown, yes, but they're just as good without the cheese. You can easily make these peppers dairy free or vegan.
Most stuffed peppers are made with Italian seasonings, but I went in a different direction. I was inspired to incorporate some of my favorite Mexican ingredients, including pinto beans, cherry tomatoes, cilantro, lime, chili powder and cumin. The filling is so tasty, I could eat it as a side dish! These peppers are somewhat time consuming, but each element is simple to make.
Ingredients:
Roasted peppers
4 large red bell peppers, halved from stem to base, seeds and membranes removed
1 tablespoon extra virgin olive oil, as needed
Fine salt and freshly ground black pepper, for sprinkling
Filling and topping
½ cup long-grain brown rice (or 1 ½ cups cooked rice)
2 tablespoons extra virgin olive oil
1 large yellow onion, chopped
½ teaspoon fine salt, to taste
1 pint (2 cups) cherry tomatoes, halved or quartered if large
½ cup chopped fresh cilantro, plus more for garnish
4 cloves garlic, pressed or minced
1 ½ teaspoons chili powder
1 teaspoon ground cumin
1 can (1 ½ cups) pinto beans, rinsed and drained
Freshly ground black pepper, to taste
1 tablespoon lime juice
4 ounces (about 1 cup) grated part-skim mozzarella or cheddar
Optional garnishes: Sliced ripe avocado or guacamole, perhaps a drizzle of cilantro-hemp pesto, red salsa, sour cream or vegan sour cream