No-Bake Chex Cookies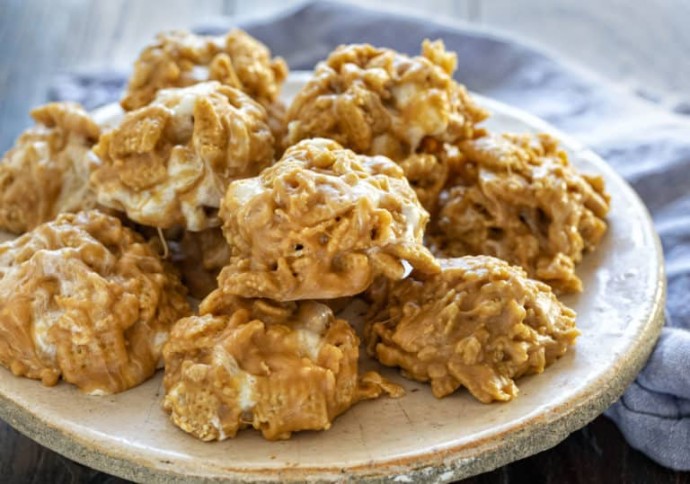 These No-Bake Chex Cookies are a combination of Special K bars and avalanche cookies. All the ooey-gooey amazingness of a Special K bar but with Chex cereal and marshmallows!
If you want the best sweet snack but don't want to turn on the oven, these are the cookie for you. They basically taste exactly like a special-k bar with a few small changes. They are a cookie, so easy to handle, and I added marshmallow instead of chocolate. I also used Chex cereal in place of Special-K cereal as the kids were having a friend over who is gluten-free, and Rice Chex are naturally gluten-free. How awesome is that?
These cookies only have 7 ingredients, which makes my life a bazillion times easier. I happened to have everything in my pantry to make these, and I am willing to bet most parents do! (I think last time I checked I have 4 bags on mini marshmallows. ) They come together so quickly and clean up is a breeze. Just an all-around great sweet treat! You may be wondering if you can add chocolate and then answer is YES. I have added about 1 cup of mini semi-sweet chocolate morsels when I add the marshmallows and it is just enough chocolate to satisfy a craving.
Ingredients:
1 cup (200g) granulated sugar
1 cup (340g) corn syrup
1 teaspoon vanilla
1 1/2 cups (387g) creamy peanut butter
5 cups Chex cereal, I used Rice Chex
pinch salt
2 cups mini marshmallows