Maple-Glazed Red Pear Galette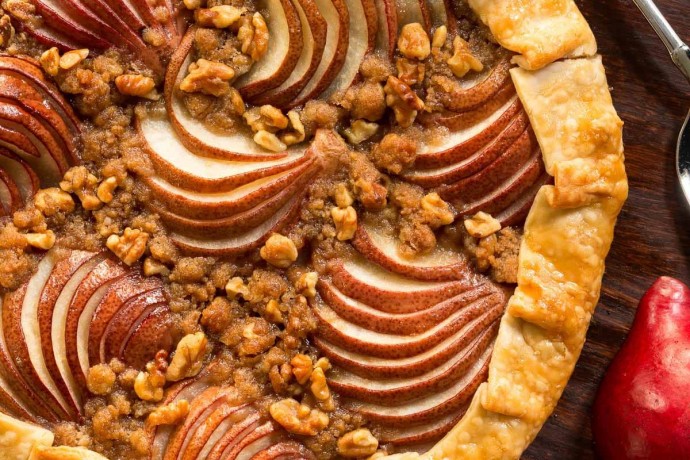 Need an impressive fall dessert – in a hurry? This beautiful Red Pear Galette recipe is easy – yet looks like it comes from a fine bake shop! Bon Appetit says that "If a crusty cake and pie had a baby, it'd be our favorite freeform dough creation: the galette." Freeform is the key word here. A galette is not made in a pan or a baking dish. They're made with a single crust of pastry or, sometimes, bread dough. Galettes are rustic, charming, fun and EASY – as you don't have to worry about blind baking, fitting the dough into a pan or fancy crimping.
And when you cheat a little (like I do in this pear galette) and use a packaged, refrigerated pie crust, the whole thing is even easier! Don't worry, everything about this red pear galette is fabulous, including the sweet, crisp, buttery tasting crust which is achieved by brushing the entire tart with a maple/butter glaze towards the end of the baking time. The partially sliced pears are easy to fan out and arrange on the crust. The effect is quite artistic looking – even for a non-artist like me! If you're in a big hurry, no worries, the galette will be just as delicious if you simply slice the pears and pile them on the crust. So pick up a package of pie crust and a few red pears next time you're at the market. You'll also need a bit of pure maple syrup, cinnamon, sugar, flour, and butter. That's it! A delicious, easy dessert is less than an hour away!
Ingredients:
5 tablespoons melted butter divided
¼ cup maple syrup
¼ cup all-purpose flour
¼ cup light brown sugar
¼ cup chopped walnuts
½ teaspoon cinnamon
¼ teaspoon kosher salt
4 small red pears or 3 medium-size
1 refrigerated pie crust I like Pillsbury
2 tablespoons sugar