Pan Fried Garlic Prawns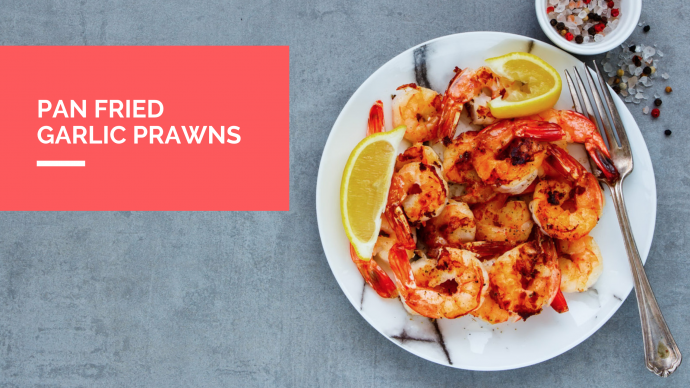 Here's a no-fail way to enjoy succulent prawns with just a few minutes of work. I recommend buying frozen large shrimp rather than fresh. ("Prawns" and "shrimp," by the way, are essentially synonyms: "shrimp" tends to be how they're sold, and "prawns" is a nice way to refer to large shrimp when serving them.) Why? Because at most supermarket fish counters the shrimp are previously frozen anyway, and the quality of shrimp deteriorates the longer they sit after thawing. Buying good-quality shrimp from the freezer section means you can have them on hand till you need them, and then thaw them just before you're ready to cook, making for fresher, tastier shrimp. I use extra-large shrimp. Either "easy-peel" or peeled shrimp will work here. "Easy-peel" are deveined but still have the shell and tail on, which preserves their flavor. When you peel them, I suggest leaving the tail on. It'll add flavor and makes the shrimp look much more attractive on the plate.
Ingredients
1 pound (0.45 kg) frozen extra-large shrimp ("easy-peel" or peeled)
¼ cup olive oil
1 teaspoon minced garlic (about 1 good-sized clove)
¼ teaspoon salt
1/8 teaspoon freshly ground black pepper
A big pinch of red pepper flakes (plus more for passing at the table)
Fresh lime wedges, for garnish
Directions
Step 1
Put the shrimp in a colander in the sink and run cold water over them until they are thawed. Drain well, and pat dry with paper towels. If using easy-peel shrimp, remove the shells and, optionally, the tails.
Step 2
In a shallow pie plate or bowl, combine the olive oil, garlic, salt, black pepper, and red pepper flakes; mix well. Add the thawed shrimp and toss to coat well. Cover tightly and refrigerate for at least 20 minutes and up to an hour.
Step 3
Place a large heavy skillet over medium heat. After about a minute, add the shrimp (leaving the extra marinade behind in the bowl to discard). Cook for 1 to 2 minutes on each side, or until the shrimp turn from glossy to opaque.
Step 4
Transfer to a serving platter and serve immediately, with many fresh lime wedges and additional red pepper flakes if you like.
Tips
Garnish these with a handful of chopped flat-leaf parsley and/or snipped chives.
Put freshly cooked, still-hot shrimp right on top of a big green salad along with slices of cucumber, red onion, tomato, and avocado.
Serve the shrimp over rice or couscous, with lime wedges on the side for squeezing over everything.
To turn this into a pasta dish, cook ¾ pound linguine or fettuccine according to the package directions. Meanwhile, sauté the shrimp, using a large skillet that will accommodate the pasta. When the pasta is done, toss it in the skillet with the cooked shrimp to combine. Remove the pan from the heat, drizzle up to 2 tablespoons olive oil over the pasta, and squeeze a few tablespoons of lime juice over it as well, to taste.
Bon Appétit!