Jam Filled Oatmeal Bars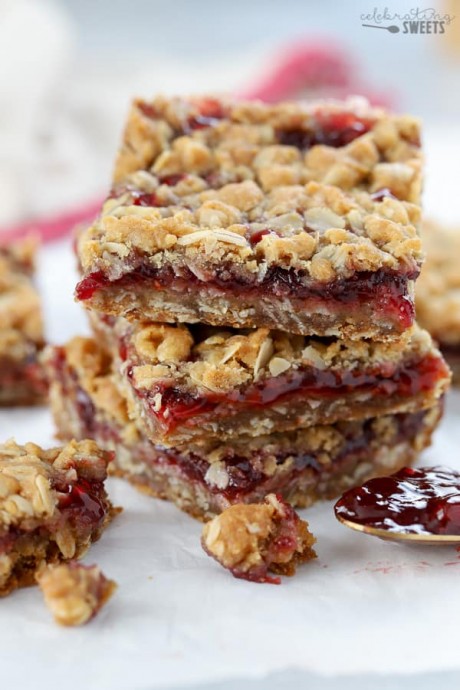 Buttery brown sugar Oatmeal Bars with a fruity jam filling. This simple recipe comes together in minutes, with the crust and topping made from the same mixture. Use your favorite flavor of jam. Buttery brown sugar oatmeal cookie bars sandwiching a thick layer of jam. Are you in? Yep, me too. There's so much to love about this simple recipe. It comes together in just a few minutes, it can be enjoyed for breakfast or dessert, it can be served warm, chilled or room temp, and it can be made with any flavor of jam.
What's not to love about a dessert that can feed a crowd, travel well, and maybe also be served for breakfast (there are oats in there!). I mean, yes, technically this is a dessert, but if you wanted to cut yourself a square to nibble on along with your morning coffee I would pass zero judgment. I only ask that you invite me over to join you. If you'd prefer to eat them warm, you can! They will be a bit less stable and need to be eaten with a fork or spoon (see photo below). When serving these warm I like to top them with a scoop of vanilla ice cream. It's like eating a fruit crisp that is heavy on the topping, with jam instead of fruit.
Ingredients:
1 cup all purpose flour
1 cup old fashioned oats
1/4 teaspoon salt
3/4 teaspoon baking soda
10 tablespoons unsalted butter, melted
1/2 cup light brown sugar, packed (it should be soft and fresh)
1 1/2 teaspoons pure vanilla extract
generous 3/4 cup jam or preserves